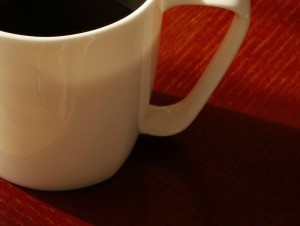 Can anyone give advice on how to remove the ghost-like white hazy marks glasses with cold drinks, or perhaps a mildly hot pan leave on solid wood furniture like the dining table? How does one take the white hazy circular mark off the nice wood table?
Cheryle from Longview, Texas
Answers:
Iron and a Cloth
Keep it simple, quick and clean... It may sound counter-intuitive but, just use a hot iron on dry heat and a dishtowel. Place a soft cotton dishtowel over the area of the tabletop containing the heat ring(s) and apply the iron to the towel surface, moving the iron over the affected area. With sufficient heat, in about 20-30 seconds, the rings will disappear like magic! Gets rid of the accidental grey coffee mug rings from my cherry dining table (that even form through the tablecloth) every time!
By Dave
Iron and a Cloth
Several plates of very hot food were placed on my antique cherry dining table and I was horrified to see huge white hot spots all over the table. I wanted to cry!
I tried the mayo and no luck there. I was a little more than nervous to try the hot iron and cotton towel, but I felt I had nothing to loose. After working very slowly and carefully, there is not a mark on this beautiful table. Thank you is all I can say.
By Joan
Iron and a Cloth
Dave - Thank You! Your magic solution was the illusive solution I had been waiting for. Many years ago, someone told me of the iron and dishtowel formula, I lost the notes somewhere between Nebraska and Texas. I've used this technique on a mahogany piano bench, and my Grandmother's walnut dining room table. Yessiree, works like a champ! Thank you to all of you great people for the various solutions to tackling the dreaded white spot.
By Cheryle Zahm
Iron and a Cloth
I tried the mayo for 4 hours, it didn't work, but the heated iron on a cotton cloth worked great. It slowly disappeared, but it is gone now. Thanks for your feedbacks. I am so happy again i polished my table and smiled.
By Tara Roberts
Iron and a Cloth
Set my tea down, on the place-mat mind you, and later found the worst white spot I'd ever seen. Not just a ring, a big ghastly blob. My husband is a fine art carpenter and I think he can hear the wood cry out -- he hates it when the furniture gets damaged. He happened to be napping on the couch five feet away so quick onto Google, found this site through a search, threw caution to the wind and used the iron and cloth method and hey PRESTO! The perfect crime, he never woke up.
By Fan O' Dave
Iron and a Cloth
The iron method worked great once I got my nerve up. With a thicker dish towel and wool setting for heat on the iron, it did not do much. With a thin towel and turned up to cotton, the marks disappeared in about 15-20 seconds.
By Bob
Iron and a Cloth
Dave. You're a genius! It worked on my rosewood table. Yes, use a thin dish towel on cotton setting, apply for about 5-10 seconds and check. Then apply a little longer if needed and the "stain" is gone!
By Dalec
Iron and a Cloth
My girlfriend's very old antique table had 3 stain problems: 2 watermarks and 1 heat mark from a pizza box. Using Dave's hot iron and cloth method, we were able to remove these stains completely without any discoloration to the wood. One note of caution: I would recommend starting out at low heat for a short period of time and then progressively trying hotter heat/more time until the stain starts to be removed. If you use too hot of heat you can leave some towel residue on your table top.
By Eric in Massachusetts
Warning: Iron and a Cloth
Oops. You can go too far with the dish towel and hot iron method. I succeeded in causing the finish to blister and now have another problem to solve. Next time, I'd suggest starting with 15 seconds of heat, letting the wood cool, then trying again with 20 seconds of heat.
By Two Ens
Iron and a Cloth
The tea-towel + hot iron tip is brilliant. Thanks for sharing it! I've just removed a "ghost" cup stain caused by my daughter from a mahogany coffee table. It took a couple of attempts and a dollop of barbour wax after et viola! Gone. Completely. I could not believe it. Thank you again!
By L.J.
Iron and a Cloth
Dave, go for the Nobel prize mate, you deserve it. I have a Jarrah table that has had a slow accumulation of white rings building up for the last 15 years. As it was more white than polish, I was about to tackle it with sandpaper and had the French Polishers number at ready when I decided to have a quick look on the internet and found your hint. Now its just like a bought one!
By Felice
Iron and a Cloth
I have just tried the iron and tea towel method on a Bureau I am selling and it worked.
By Sandra
Iron and a Cloth
Dave, you are the best. I have a high gloss finished antique table and someone had put a hot teapot on it. I removed the stain with the iron and the cloth! Thank you so much!
By pinkcatandmouse
Mayo
I have used regular mayo with success. Sometimes you have to use a little elbow grease too!
By KarinVW
Mayo
Leave mayo on it over night, it will take it out for sure.
By Mary
Cigarette Ashes and Spit
People used to use cigarette ashes and spit.
By Shirley
Baking Soda and Toothpaste
I have looked at many sites concerning the removal of white rings. I accidentally set a paper plate full of hot bread (straight from the oven) on an expensive hutch table on Thanksgiving day. I have been sick for a week now. I have tried the mayo trick 3 times with no luck. I have tried to oil the spot with no luck. I ran across a site that said to use equal amounts of regular non gel toothpaste and baking soda. Make a paste and rub gently in a circular motion. Took 5 minutes and with a little lemon oil it looks perfect. Just thought you would want to know.
By Kyle
Mayo
I have used regular mayo with success. Sometimes you have to use a little elbow grease too!
By KarinVW
Mayo Worked
Tried the toothpaste trick with minor success. Tried leaving mayo on for an hour, and now... good as new.
By Tracey
Baking Soda and Toothpaste
I put hot muffins on a napkin on a wooden table. Got the dreaded white spot! The toothpaste and baking soda worked for me as well. Mixed a small amount of non-gel toothpaste with an equal amount of baking soda as Kyle suggested. Rubbed it lightly in a circular motion with my finger. Got the spot out in a minute. Gave it a hit of wood cleaner, then waxed Looks like it never happened!
By JLT
Toothpaste
Using an old sock with tooth paste will work to remove the white spots or rings from wet glasses. If the spots are small or fairly small, you can use a piece of raw walnut to replace the finish. Just rub the raw nut on the spot and the natural walnut oil will 'finish' the spot. Small dents and scratches can be removed by wetting a piece of brown shopping bag the same size as the scratch or dent and laying it on top, then pressing the wet paper with a hot iron. Then use the raw walnut to fill in the missing finish.
By Donna
Salt and Olive Oil
To remove heat rings from furniture, make a paste of salt and olive oil. Apply to the ring and allow to stand for at least an hour.
By Sarah