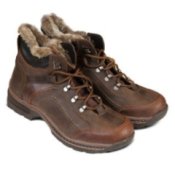 My daughter was given a nice pair of leather boots but they reek of smoke and cannot be used. What can she use to help remove this odor?
We have left them outside in the sun and air but this has not helped very much.
Answers

March 5, 2009
0

found this helpful
If you put how to remove smoke smell from leather jacket in the search for answers box at the top of the page, you will find many possible methods you might use. If it works on a leather jacket, it probably would work on leather boots.

March 6, 2009
0

found this helpful
Here's the absolutely best way that I have ever found for removing undesirable smells from leather- take the peel from oranges, lemons, or limes, and use the fruit. Let the peel sit for an hour or two, but not to the point that that the peels dry out. Stress the peel- crumple it up in your hand, knead it, kind of crush it up a bit, to release the oils in it. Then, rub it all over the leather, inside and out.
Use the "smooth", outside side of the peels. Sounds crazy, but it will do two things for your leather item: 1. the oils in the citrus peel will give your leather a nice conditioning treatment, and 2. those same lovely oils will kill bad smells, both from the lovely citrus smell that is inherent in the natural oils, and from the secondary germ-and-bacteria-killing properties of those oils. This will actually help to preserve your leather. Repeat rub-downs will continue to keep the stench at bay!

March 7, 2009
0

found this helpful
Put a 2-3" layer of unscented clay kitty litter into a plastic storage tub, lay the boots inside and snap the lid on. Leave the tub sealed for a couple of weeks. Your boots should be free of the smoke smell! This works for books too.

March 9, 2009
0

found this helpful
You might also try putting activated charcoal (aquarium supply/pet store) or charcoal briquettes in an old sock - rubber band or tie the toe, and put it in each boot. If the weather permits, putting them outside with the charcoal in the boots may also help.

March 14, 2009
0

found this helpful
I would think they wouldn't have to be perfect, being far from your nose while you wear them.

June 20, 2015
0

found this helpful
Cathy's suggestion is excellent, but may I suggest you go a couple of steps further. First, get a box of baking soda and mix it in with the kitty litter.
Second take an old sock or old hose and make a soft "sausage" by filling the socks with activated charcoal -- with or without additional baking soda -- tie or rubber band off the top and stuff one into each boot.
The one-two punch will take on a large number of stinky smells. Including the smell of stinky feet.

June 22, 2015
0

found this helpful
Airing is not ever going to get rid of any strong odor. You need to actually clean the boots. Follow the directions on a tin of saddle soap for the exterior and repeat if that doesn't eradicate the smell the 1st time. Saturate the insides of the boots with baking soda, vacuum it out with the hose attachment, and repeat if needed.
Answer

this Question
New shoes are not such a bargain when you find the reason for the special prices is a possible fire in a shoe shop. There is a strong smell of smoke on the shoes and box. I have thrown the box away, but the shoes will need a remedy. I am thinking of trying the kitty litter as suggested previously, but would like to know remedies that others have found successful.
By linda49
Answers

December 5, 2017
0

found this helpful
We had a house fire years ago. Things the fire restoration company did things such as put items in a box with crumbled newspaper, setting items in a tub of baking soda and charcoal, and letting things air out. They also fabreazed a lot of items that could be.

Judy
Gold Post Medal for All Time! 677 Posts
December 5, 2017
0

found this helpful
Purchase Nok-Out. It is good for removing smells
Answer

this Question