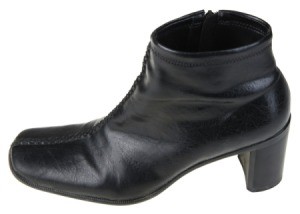 I have seen different places on the web about shrinking leather by soaking it in water. Another place mentioned that the water will penetrate better by adding some alcohol to the water. Anyway, I'm afraid that if I soak only the top upper (or shaft) part of my boot that I want shrunk (because I have a large foot, but a small/thin calf and the top of the boot has a large gap around the calf area that looks ridiculous) that it might discolor and be a different color than the bottom (the boots are red).
Anybody had any experience with shrinking colored leather like that and also how much shrinkage can I expect? Also it won't do me any good "wearing" the boot while it dries because it's not a matter of it conforming to my leg, I just want it to be smaller around (besides I don't think it will shrink enough to hug my leg anyway!). Just wondering how much it may shrink and if it will be worth taking the chance on messing up the colors (top vs. bottom of boot)? Thanks for any comments!
By Beth
Answers

Lizzyanny
Bronze Feedback Medal for All Time! 226 Feedbacks
May 30, 2013
0

found this helpful
You wont get much shrinkage that way. Consider finding someone who will restitch the boots for you to make them fit. I have done that sucessfully with english riding boots that are very expensive. Check with different shoemakers to find someone who will work on boots.
In the Seattle area there is only one person who does it. If you know a motorcycle cop ask them as they have their boots taken in and let out as they gain or lose weight. There may be more people who can work on western boots. Good luck.

June 1, 2013
1

found this helpful
I really don't think that wetting the top part of a boot will shrink it enough for your purposes - Have you thought about having them taken in by a shoemaker?
January 13, 2016
1

found this helpful
Don't do it I've just messed up a pair of tiny lamas.

September 30, 2016
1

found this helpful
Tiny llamas, lol! That I'd like to see.
Answer

this Question
I just bought new leather boots online and the foot part is just slightly too roomy? Can I shrink just the foot and not the calf part?
By Christi
Answers

Louise B.
Silver Feedback Medal for All Time! 337 Feedbacks
February 1, 2014
0

found this helpful
I doubt it. Leather stretches rather than shrinks. You might be able to wear heavier socks or put in a comfort insole. However, I think you should send them back and order the proper size.

susan
Silver Feedback Medal for All Time! 472 Feedbacks
February 3, 2014
0

found this helpful
Google how to get cowboy boots to fit. I believe that they are thoroughly soaked with water, then worn until dry. This way, the leather will shrink as it dries and conform to your foot.
I'd try just soaking the part you need to fit, and not too long - you don't want to ruin the boots. After dry, definitely waterproof them.

June 29, 2016
0

found this helpful
Try half water and rubbing alcohol! The water will make the boot shrink and the alcohol helps to dry it faster!
Answer

this Question
My leather boots are too big and keep slipping from the knee. Any suggestions on how I can shrink the leather so they stay put?

Thanks,
Megan Sanford from , London, England

Answers
By Steven (Guest Post)
May 23, 2008
0

found this helpful
Thanks for the information, it was very helpful!

July 16, 2009
0

found this helpful
I took my new leather boots that were too big and soaked them in a bucket of plain water for abt. an hour. Then....put them on my feet and wore them all day.
Somehow, they molded to my feet just perfectly. this was recommended to me by a friend who'd tried this before on the advice of someone else. And, although I was very dubious, thinking the water would RUIN my new ostrich quill, expensive boots, I tried it cause boots were 'slipping' so much on the heels.....and problem was solved. It's kinda cool how the boots mold to your very own foot shape.
Answer

this Question
I have a pair of very expensive long leather boots. They are laced at the bottom and have a zipper. They are equestrian boots (just to let you know). The foot size fits snugly, but the calf size is just too big, about 5cm to big for my leg.
Any help on how to shrink?
By Skye
Answer

this Question