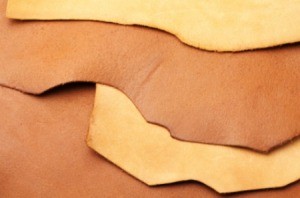 I have a gun holster that has shell loops that are to big. How can I tighten it up without getting the holster/belt also?
By William S

Answers

February 6, 2017
0

found this helpful
Best Answer
I had the same problem. I have a .30 cal sixgun and a gunbelt with .38 cal loops. I rolled up paper napkins and dipped them in room temperature water, then pushed them into the cartridge loops from the bottom. Don't pack them in, but they should fill the loops. Gently rub a little water on the raw leather edges frequently or fold a paper napkin into a long strip about twice as wide as the loops are long, and lay it on the loops from one end to the other. The idea is to get the loops thoroughly wet. When they are wet all the way through, remove the napkins and rolls. Allow to dry, lay it in the sun, or use a hair dryer (go slow and be gentle with the heat). Repeat as necessary. Be patient. When done shrinking, oil the leather and buff everything to suit!

May 4, 2017
0

found this helpful
Best Answer
Dip the shell loops in hot water (using a shallow pan) to thoroughly soak them. Insert an empty shell casing into each loop and let dry in sunlight or warm setting on hair dryer.
the loops will tighten around the casing and create a snug fit.
Answer

this Question

My sister gave me a new pair of expensive sandals. The vamp of the shoe is too deep for my thin foot. I need to shrink down the leather part. Please help!
By Alma B from Shelbyville, IL
Answers

May 12, 2012
0

found this helpful
Best Answer
Wash the sandals in the washing machine in warm water (fill up the load with towels). Do not put the sandals in the dryer. Let them dry outside in the sun on a warm day.
I've done this twice in the past year and it tightened up my stretched-out sandals so I could continue to wear them.

Lizzyanny
Bronze Feedback Medal for All Time! 226 Feedbacks
May 12, 2012
0

found this helpful
Best Answer
Another option is to buy Moleskin in the foot department of your local drug store. Line the vamp on the inside where it doesn't show with a piece fo moleskin which you have cut to fit. It will tighten up the space and last for the life of the shoe.
Answer

this Question

Does cold water or hot water shrink leather?
By Cemerle from Memphis, TN

Answers

February 20, 2010
0

found this helpful
Best Answer
According to some other forums, leather will reshape itself when it is wet (see forum link below). One woman mentions her husband and other people soaking in a hot bath and then walking around the rest of the day in the wet leather waiting for it to dry and reshape to their bodies.
I think it's probably a bad idea to wash in a washing machine since the leather would probably wrinkle and reshape in a bad way.
It's not clear that it would actually shrink much, but probably mostly reshape, so if it's already too big I'm not sure if it will reshape or shrink enough to fit you the way you want it to. You could try it, but it might reshape in a way that isn't good. Especially if it's too big, it might reshape in wrinkles and a droopy way.
If it's your last resort you could try it, but be aware it might not do what you want it to.
Source(s): community.discoverychannel.co.uk/ Good luck.

Cyinda
Bronze Post Medal for All Time! 213 Posts
February 20, 2010
0

found this helpful
Best Answer
Hot is the worst, but any water can shrink leather if it's dried to fast. Like for example, if you put wet leather in the sun to dry, or if you used a blow dryer, the heat could make it shrink. This is one reason why they put newly tanned leather tightly laced to board to cure. In the old days when people wanted to break in their leather boots, they'd sometimes soak them in water then wear them until they were almost dry. This way they would conform to the shape of their feet. But I wouldn't recommend this!
But the answer is, use cold to lukewarm water (never hot!) & It's best to let the leather dry slowly & at room temperature. After washing your leather use a leather conditioner to help re-soften & re-condition the leather again.
Also: You will often hear that mink-oil is bad for leather, but it's not actually bad for the leather, what happens is, the mink oil will more quickly break down the cotton thread (at the seams) that is used to sew the leather together.
Answer

this Question
I just got a pair of Jack Rodgers sandals from a friend whose foot is a bit larger than mine. How can I shrink the strap and not the whole shoe?
By Mary Ellen
Answers

July 21, 2014
0

found this helpful
Best Answer
Is it a strap that goes over the top of your foot, or around the heel? Either way, if the strap is fabric, could you sew across it low on the inside of the shoe to make it shorter? Try safety pinning it to check for fit before you sew the tuck in the strap.
If the strap is long enough, you could make it an adjustable strap by cutting one end free, and applying stick on Velcro patches to the shoe and strap. Hope this helps.
Answer

this Question
How can I shrink my daughter's shooting glove so it will fit her better?
By Perry
Answers

February 24, 2014
0

found this helpful
Best Answer
You can try (no guarantees, but worth a shot anyway), wet the glove in warm water, get it really wet, and have your daughter wear it until it dries. She should move her hand around a lot while it dries, and just keep it on her hand. Then it will (hopefully) shrink to fit. Otherwise, she could just use the finger guard thingies that are not a full glove.
Answer

this Question
I just got my Doberman a nice thick, studded leather collar. I knew it would be too long, but there was quite a bit of length on the holed end. So I put my own hole in as far up as I could. The collar is still about an inch or 2 from a perfect fit.
I'm thinking of shrinking it, do I just soak it and let it dry? And will shrinking it make the studs or anything fall out?
Only need to shrink an inch or 2.
By Ken
Answers

July 4, 2013
0

found this helpful
Best Answer
You might think about padding the inside of the collar, with thick quilted material or a material that would take up the slack.
Answer

this Question

I ordered a black panther mask and it is way too big. It is made out of leather and I wanted to know if there is way to shrink it?
Answers

October 11, 2018
0

found this helpful
You can shrink the mask by soaking in a bucket with one part alcohol and one part hot water. Soak for 10 minutes. Let dry for at least 24 hours. Condition with leather conditioner. Complete instructions are here: www.ehow.com/how_8413266_shrink-leather-alcohol...

Pghgirl40
Bronze Feedback Medal for All Time! 196 Feedbacks
October 11, 2018
0

found this helpful
Can you return it? If you do anything to it and and it has any kind of warranty, you will void the warranty if you mess with it.
If you can't return it, can you rebuy it in the right size and sell the one you have on eBay to get your money back?
I would not mess with trying to shrink it as you can totally ruin it!

15mhhm15
Diamond Post Medal for All Time! 1,298 Posts
October 14, 2018
0

found this helpful
I would check if there is an exchange policy. I wouldn't want to risk shrinking the leather, it may not turn out how you'd like or not look as nice.
Answer

this Question

I bought 3 leather chokers with the metal hearts and circles and they have metal clip ins for adjusting. But they don't fit my neck, they are loose.
Is there a way for me to shrink the leather without ruining them?
Answers

May 9, 2019
0

found this helpful
You cannot shrink these. Is there any way you could cut and use velcro to fasten behind your neck?

Pghgirl40
Bronze Feedback Medal for All Time! 196 Feedbacks
May 10, 2019
0

found this helpful
I would not try to mess with the leather--water can damage it and cause dry rot. So can heat.
I can't visualize the clips that you say are there for adjusting. Does it allow you to have little tails at the end that can draw the choker in so that it is smaller? Could you use the clips to draw it in and then clip off the excess so it gets to choker length again?
Is there any way to tie them off in the back with pretty loops or bows?
Back in the 60s when long leather ropes with lots of charms dangling from the bottom were the hot necklace style, we would tie them in bows behind our neck.
Hope one of these suggestions can help. Maybe a photo if they don't help, would spark an idea!
Answer

this Question