Removing Tomato Sauce Stains on Clothing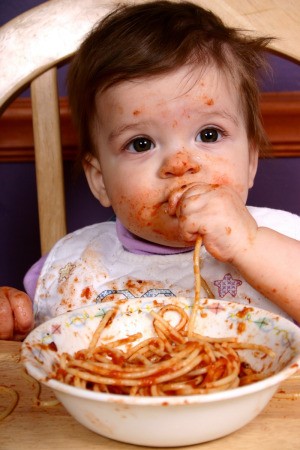 Don't panic when the tomato sauce drips on your clothing. This is a guide about
removing tomato sauce stains on clothing.
Solutions
Share on ThriftyFunThis guide contains the following solutions. Have something to add? Please share your solution!
I was folding clothes and found a tomato stain on my white shirt after it had been dried. I put Borax on it, hydrogen peroxide and bleach. After I bleached it, I soaked it in water for 10 minutes. You might need to dabble bleach on the area, at the max: 3 times. I put it out in the sunshine to dry and the stain disappeared!
Questions
Ask a QuestionHere are the questions asked by community members. Read on to see the answers provided by the ThriftyFun community or ask a new question.
July 20, 2004
0

found this helpful
I need help. I stained my new pink skirt and a matching sweater. I stained them with tomato sauce. Can anyone help me?

- KT
By guest (Guest Post)
July 24, 2004
0

found this helpful
Try DAWN dishwashing liquid. I use it on most of my food stains (I just keep a bottle in the laundry room). Put some on the stain and rub gently and wash as usual.
July 26, 2004
0

found this helpful
The important thing with stains is don't put the items through the dryer until the stains are gone.
Oxiclean or an oxygen cleaner works well on tomato stains, as does Dawn, Shout or other stain removers. White vinegar and salt also can remove stains. Hydrogen peroxide is another good stain remover although it can bleach the fabric.
Treat the stains with ONE of these cleaners, let it sit a while, then run through the washer. If there is still a stain, try another. Don't use them all at once because you can set up chemical reactions!
Once you put the items through the dryer though it sets the stains and they can be impossible to remove.
Most stains can be removed with patience and some trial and error.
By guest (Guest Post)
September 9, 2004
0

found this helpful
Try toothpaste, we used crest whitening, but I think any kind works. If the garment has been put in the dryer then I am not sure if it will work then, but worth a try.
By guest (Guest Post)
May 29, 2006
0

found this helpful
try using rubbing alcohol $1.00 or less at the store if that does not work try using peroxide the kind you use for cuts and scrapes also less than a dollar, pour a small amount over the stain let it sit for about 5-10 minutes rub with a soft toothbrush or rub it together wash as you normally would it should come out if not take to a local dry cleaner they may be able to help
By guest (Guest Post)
January 22, 2008
1

found this helpful
Inside tomato sauce is corn syrup that will lock on to your clothes use shout spray, it will go away super fast.
April 5, 2009
0

found this helpful
Wash garments and hang outside in the bright sunlight - always works!
How do I get a lasagna stain out my nice pink duvet cover that my dear darling daughter managed to do.

Theresa from Scotland
By guest (Guest Post)
June 4, 2008
0

found this helpful
Spray-n-Wash! But, it has to be the aerosol not the pump. It just works beter for some reason. I have four boys and can't imagin what they would look like if I didn't use it. Red clay, tomato sauces, all types of automotive fluids and oil, blood, grease, ect... I mean it, that stuff works. Just becarful with it on silk, it can damage it, but, that is the only problem I've found with it. I even used it on swade and it came out perfect. People who know me, know I will try washing anything once to avoid paying a cleaner.
By guest (Guest Post)
June 4, 2008
0

found this helpful
I just realized you are in Scotland. I lived there for some time and know you may have a hard time if not impossible time finding "Spray-n-Wash". Sorry, my post was probably of no help.
By guest (Guest Post)
June 5, 2008
0

found this helpful
Theresa, You can make your own stain remover by using equal amounts of clear ammonia, water, and Dawn dish detergent. Another dish detergent may work, but I have found that Dawn is best for removing grease from any surface.
Place all of the ingredients into a spray bottle, shake well, and spray onto the stain liberally. Allow it to sit for 10 to 15 minutes before washing the duvet cover. Check to be certain that it is completely clean before drying and if it isn't reapply the stain remover and try using a small toothbrush to ease out the rest of the stain. Good luck and God bless.
What is the best way for removing a fresh tomato juice stain from clothing, before laundering? 100% cotton t-shirt (pink).
By AuntieBim from Hart Flat, CA
May 4, 2009
0

found this helpful
I always use Palmolive Dish Soap and the hottest water you can use for the fabric for any "food stains."
Just put Palmolive directly on the spot and wash as usual. It should come right out.
October 5, 2011
0

found this helpful
After many attempts to remove tomato sauce stain from a white shirt, with Oxy Clean, bleach, Clorox2, Spray & Wash stick stain was still visible. The following day, I finally got it out after using the liquid dishwasher detergent with an ice cube, then blotting it with vinigar to get the stain out!! : ) My last attempt would have been to soak it with lemon juice put it in the sunlight.
How do you get tomato based liquid out of white clothing?
By Dolly from Clearwater, FL
Archives
ThriftyFun is one of the longest running frugal living communities on the Internet. These are archives of older discussions.
June 30, 2007
0

found this helpful
How to get tomato sauce out of a white jacket? I just got a white winter jacket for Christmas and have just recently acquired a huge stain all over it from someone throwing tomato sauce from a lunch kit on it. i don't believe I can use bleach because it will take away the weather proofing. what works, or what should i do?

James
Answers:
Removing Tomato Sauce Stains
The sun works best on tomato stains, as a previous poster said, and it is free! (01/17/2007)

By Joanieq
Removing Tomato Sauce Stains
For tomato stains, try pouring boiling water over the stain (just not while you're wearing it!!!). My mom has used this for years with great success. (01/18/2007)

By Cresanna
Removing Tomato Sauce Stains
There is a product called "Spray Nine" which can be purchased in most hardware stores. While it has cautions on the label against using it on material, I have been using it for upwards of 12 years on everything, without harm to any material and the removal of most stains, including gum, wine, tomato ketchup, magic marker (almost). The only thing I have not been able to remove with it is the pollen from the flower of my hibiscus bush on a white sweatshirt. In that case, I used "Oops! -- another product I could never live without. If you have concerns before trying it on your garment, may I suggest you put the same stain on a similar piece of scrap material first. Hope this helps! (02/26/2007)

By Margie
Removing Tomato Sauce Stains
To remove the tomato stain right after it appears requires a two-part process. First cover the stain with talcum powder. Why? It lifts the oil out of the shirt. One hour later, brush off the powder and clean the shirt with Oxyclean or a common laundry detergent and you're done.
(05/02/2007)

By FixitMan
January 16, 2007
0

found this helpful
Does anyone have a solution for removing tomato based stains (pasta sauce) on white clothing? I've tried removing as much of the stain by running cold water thru the stain and then soaking in bleach solution but it doesn't take all of the stain out.

Pat
Answers:
"OXY-CLEAN"
There is a great product out there called "OXY-CLEAN". Get water as hot as you can, add a a scoop of oxyclean and soak over night! It works. I got out formula stains from my mother's baby clothes that are 48 years old! (11/30/2000)

By Julie
Sunlight
Regarding the tomato-type stains in white clothing, try setting the item out in the sun for a few hours or a day. The sunlight seems to absorb the stain. I always do this and it works! It was great when my kids were little and were always spilling food on themselves. Also, I do this when I have tomato sauce stains in my Tupperware or other type container. It takes the stain right out. (11/30/2000)

By Theresa
Paste of Salt
I'm not sure this will work after the stain is set in, but I've had a lot of luck using a paste of salt and baking soda. Just rub it into the stain and wash as usual. (11/30/2000)

By Martha
Shout
I got tomato stains on a new shirt while putting up tomatoes this summer. (I know, I shouldn't have been wearing the new shirt!)

Anyway, it got washed and DRIED before I even noticed the stain, which was kind of at the waist level. The shirt was cotton, blue plaid, so I couldn't bleach it. I used shout pre-wash and the first washing after that was visibly better. I didn't dry it again, but squirted shout on again and rewashed it. It took about eight times but the stain is completely gone. (11/30/2000)

By Becky S. from Cincinnati
Awesome
I read this looking the same solution, and there is a bottle of stain remover called "Awesome" that I can only find at the dollar store and it works on ANYTHING!

I also used some liquid dishwasher detergent (Cascade) and rubbed it into the stain. You might need to scrub it with your fingernails or an old toothbrush, but it worked wonderfully!

DON'T PUT IT ON COLORS THOUGH!(08/18/2005)

By mom2181
Sunlight
I recently had a tomato sauce stain and came to this post to get some help. I usually use OxiClean stain remover which works great on everything, except tomato sauce. I can report that using Cascade or other DishWasher liquid (I used Sunlight) I was able to get the stain out. It worked on my white shirt!!! I recommend doing it on dry clothes as it come out much easier than on wet, but be sure to only use on Whites as the stain fighters in the liquid can bleach out colors. (06/01/2006)

By Andrew
Ice Cube
I didn't read very well and I took the ice cube trick to be a way to remove tomato stains from clothes but I'll be darned it the ice cube trick didn't actually work on my daughter's new t-shirt! And laundry stain remover products didn't. And it took no time at all. Thanks for the awesome trick. Now if someone could tell me how to salvage the other t-shirt that the laundry product lightly bleached, but that's another story. (07/02/2006)

By Wendy
Dish Detergent and an Ice Cube
I used granulated Automatic dish detergent and an ice cube. It took some elbow grease but the tomato stain came out. Thanks (08/07/2006)

By Kelly
Beware of Bleach
BEWARE! In my haste to clean my stained shirt, I used my dishwasher detergent which apparently had Bleach as an ingredient. I ruined my shirt! So be careful! (09/23/2006)

By Hohead
April 28, 2009
0

found this helpful
How do you get a tomato sauce stain out from a cotton dress? It is a week old. I have tried oxy clean, and other stain removers. It's very stubborn.

Mary
Answers:
Removing Tomato Sauce Stains
If you can find it, buy Mr. Muscle oven cleaner - Not Easy Off, or any other brand, they just do not do the job. I am a chef and use this product religiously on every stain imaginable on my Chef coats to my everyday at home clothes. I have never had color fading or any problem at all when using it. I purchase it through my restaurant food supplier, but now you can get it through commercial ordering at Home Depot. Maybe you can buy it off the shelf there as well. Get some - you won't be disappointed. (09/01/2007)

By jodi
Removing Tomato Sauce Stains
I used the liquid dish washer detergent without bleach and it actually worked to remove my tomato stain.
(10/18/2007)

By Kim
Removing Tomato Sauce Stains
Tang, I didn't believe it either. I only tried it because I wanted to prove it didn't work. I put one scoop of tang in the Rubbermaid container and very hot tap water and let it sit. When I dumped it out the container was clear again. (11/19/2007)

By Dawn
Removing Tomato Sauce Stains
I tried the dish washing liquid and ice and it actually worked. The sauce had only been on the shirt for 10 mins or so, but still, I'm very impressed. It's like magic! (11/24/2007)

By shell
Removing Tomato Sauce Stains
Question for the Chef who suggested "Mr. Muscle Oven Cleaner". I have found a blue color and a neon yellow color can. Is there a difference? Which one do you use? Have you washed and then used this stuff? Thank you!
(01/13/2008)

By Michelle
Removing Tomato Sauce Stains
Try using WD-40. It is a great laundry tool. It will take anything out, including wax. (07/30/2008)
Removing Tomato Sauce Stains
My son had spaghetti sauce on a sweater that was washed and dried in the dryer. I got the stain wet, applied liquid dishwasher detergent, and rubbed with an ice cube. There was a small amount that did not come out and I used a paper towel with vinegar to bolt the remaining stain. It came out perfectly.
(11/01/2008)

By Deb
Removing Tomato Sauce Stains
That WD-40 thing works! (11/11/2008)

By Rod
Removing Tomato Sauce Stains
I just took the advice of someone to use dishwasher soap on my daughter's pink sweatshirt to remove a tomato-base stain. Bad idea! Now her new sweatshirt is completely ruined because the soap took the color out of it. (12/24/2008)

By nancy
Removing Tomato Sauce Stains
Last night (1/27/09) my daughter got spaghetti sauce on her new sweatshirt from Disney (light blue). I have washed it 4x with Shout and 1x with Clorox2. I just tried the Vinegar -didn't work, tried the WD40 -didn't work and tried the Dawn original with ice -didn't work. Am I doing something wrong? The sweat shirt is wet and has not been dried. (01/28/2009)

By Holly
Removing Clothing Stains
For stains on white clothing I have had good luck treating the stains with hydrogen peroxide. Dab on stain, let sit for a few mins and pat with a dry paper towel. Repeat until stain is gone and wash normally. I have also had good luck removing many stains with Fells Naptha soap. It may take some elbow grease, but it is gentle, cheap, versatile and it's been around for 100 years.

For oily food stains like melted butter on cotton fabrics, I have used mineral spirits and been able to save black clothing I thought was ruined. Goo Gone and Murphy's Oil Soap liquid tend to leave a film that is hard to remove from some fabrics, so I don't use them. Dab mineral spirits directly on the stain, let it sit for 10 min and then hand wash and line dry. Repeat until stain is gone and no trace of mineral spirits smell remains.

Note: Be very careful when using mineral spirits. Do not wash treated items with the rest of your clothes and do not put them in the dryer.

For other types of crud and stains on everything on a variety of surfaces I use Krud Kutter. It is Made in the USA, available at Ace Hardware and works on just about everything. (03/01/2009)

By Margaret
Removing Tomato Sauce Stains
The best (and only) way of removing tomato stains from clothing is to hang the wet item of clothing outside in the bright sunlight. I tried every commercial product known to man without success, when I recalled something an older relative had told me years ago. It worked! (04/05/2009)

By Maypole
Related Content