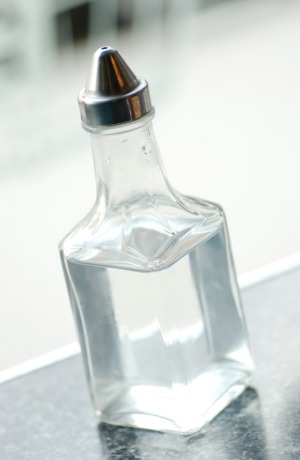 How do you remove vinegar smell from carpet in a car? I spilled a gallon of milk on my car carpet and immediately cleaned up with water, then applied a mix of cider vinegar and water.
That dried, now it stinks like vinegar. I shampooed it and have tried baking soda and it still stinks so bad. Help! I love my car and can't afford to trade it, but I have allergies and the smell is annoying my allergies and stomach.
By Vicki from PA
Answers

April 13, 2010
1

found this helpful
You might want to try putting a container of coffee grounds in your car for awhile. I know it gets rid of cigarette smoke, and that is pretty hard to remove.

April 13, 2010
0

found this helpful
Let the vinegar dry completely. The smell will be gone. Dried vinegar does not have any smell after it is throughly dry. It will take a while for the carpet pad to dry. Put a fan in the room. I use vinegar and water and rags to wash my carpeting.
It takes off all dirt, etc. And even 'street dirt' from shoes. google 'uses for vinegar'. It will surprise you. Good luck, but you don't actually need it!

April 14, 2010
0

found this helpful
Just let it dry the smell will disappear on it own.

May 27, 2018
0

found this helpful
I had a mildew smell in my car and used vinegar and some essential oils to clean it. Afterward I ran a dehumidifier in my car for four days. I still smell really, really strong vinegar. There is no question that it is totally and completely dry.

July 27, 2018
1

found this helpful
I have had a simular accident in the back of our SUV. My wife to be put a jug of homemade weed killer in the back and it tipped over.
I read all of your posts.
Coffee helps with the oder! I spread it all over the areas it was spilt, even lightly rubbed it in. I left it there until the next day. Returning home from work, i could still smell the strong oder!
I did it again. I did vacum the last spread before adding another.
Four days later its still there! Oh, I even used a carpet cleaner the very first time! LoL!
Im now on to the comments about it dissipating at some time.
Love the ideas though!!! Didn't know where to start.

March 7, 2019
0

found this helpful
4 bottles of apple cider vinegar that includes the mother froze & busted on my car seat. The smell is so strong.
How do I rid of it ??? Were suppose to take off tonight for a 10 1/2 hr ride in it . Help ???

Jess
Silver Post Medal for All Time! 267 Posts
March 8, 2019
0

found this helpful
Try baking soda to neutralize any vinegar and to help deodorize. I would place towels on the seats and vacuum it all up when you are back from your trip.

April 4, 2020
0

found this helpful
No the smell is actually worse and this spill is 3 months old
Answer

this Question
I used white vinegar to remove stains and pet urine from the carpet, it worked, but now an awful vinegar smell is left. It has been 4 days now and the smell is almost stronger. I tried washing it, but that didn't help. It still has a strong vinegar odor. Help. I am getting ready to replace carpet.
By Deb K
Answers

May 6, 2017
0

found this helpful
Pour a pile of table salt on it and let it sit for 24 hours then vacuum it up.

June 7, 2017
0

found this helpful
For few hours put unused coffee spread in your car carpet then vacuum it

July 19, 2017
0

found this helpful
Good day,
Reciently viniger spilt in my car. On a hot day with the windows closed. The smell was horrible. I made a mixture warm water of Cascade granuls. Almost a paste but thinner. Then washed the area. It has to be the original granules of Cascade, the other brands will not work, they could bleach the area that you are cleaning.
After rinsing, I let it dry then vacuumed it. I have used Cascade granuals on white pants,that have had car grease, silk shirts that had olive oil splattered on it. No discoloration. I have also cleaned the tubs and walls, and much more. It is my Secret miracle cleaner.

April 20, 2018
0

found this helpful
You said use table salt to remove the vinger smell from carpet ..I have a dog in a small apartment is there anything else I can use ? The smell of vinger is everywhere carpet and clothes..I used the vinger to shampoo my carpet and tile floors..the dog is a rescue and was not housebroken at the time ..I need help please !!

November 1, 2018
0

found this helpful
The room needs to be ventilated so it can allow the padding in the carpet to dry. Your best bet is to open your windows and turn on a fan for some hours every day until the smell goes away.
It worked for me. I'm in an apartment with a dog as well
Answer

this Question