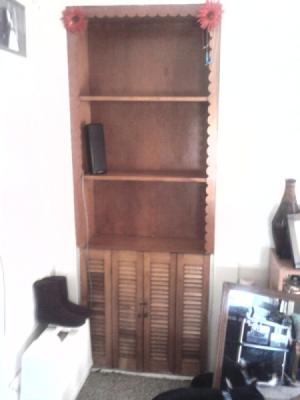 I would like some suggestions on what to do to spruce up this shelf built into my living room wall. It looks dated and I'd love to paint it out and redecorate. The rest of the walls are white and gray.
By babysobluexx from Leominster, MA
Answers

October 9, 2011
0

found this helpful
I would remove the scalloped edging on the shelf unit and replace it with molding that you can buy at lumber yards/home improvement stores, for not too much. Being I have a tendency to rush in where angels fear to tread I would paint the edges to match the walls, then paint the back wall of the book case a completely different color that would be the same as some of your accessories or upholstered furniture. Then I would go down to the what appears to be louvered doors and paint the louvered part the same as the back area of the shelf part, leaving the edges of the doors the same color that you painted the edges and shelves.

October 10, 2011
0

found this helpful
I agree with redhatterb adding only that the new molding should match that around the doors. I would definitely paint that thing to make it blend with the walls.

October 10, 2011
0

found this helpful
I was considering taking down the scalloped edges too! It looks way too old fashioned. I do like the louvered doors though. I have accent colors that would work quite nicely in the backs of the shelves.
I was thinking of wallpapering just the back of the shelves and painting out the rest. Thanks so much for the input because I needed some confirmation that I wasn't making a huge mistake. :)
October 11, 2011
0

found this helpful
I agree with the others - about looking dated. If the scallops were gone, new trim, it'd look so much better. Not sure what your decor/style is, but perhaps paint it a complementary color. Or a white wash treatment? You can also restain it to match other woods in your room. That would take more work, but should look very nice.
Read More

Answers