Repairing Holes in Canvas Tent Trailer
We bought an old pop up last fall (86 Starcraft). The pin holes it had in the roof turned out to be much bigger. Needless to say, we have water damage. We are down to the foam in the ceiling.
I would like to know how to repair this? Can anyone tell me 1.) an inexpensive way to just have something there to enjoy the camper for the summer and 2.) the "proper" way to repair it? Thank you!
By Becca from ME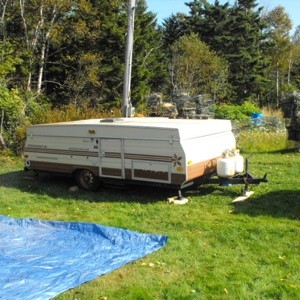 Add your voice! Click below to answer. ThriftyFun is powered by your wisdom!
June 3, 2010
1

found this helpful
Best Answer
Hi Becca,
If the roof is fiberglass just go to the local automotive parts store, you want the fiberglass in a can.
Clean the area with alcohol and sand if needed.
You mix the fiberglass with hardener (in a toothpaste tube looking thing) I mix on a piece of picture frame glass.
You spread it on the roof with a rubber spatula looking thing. Make sure you smush it down so there are no voids.
Once it dries you can sand it smoother. This way snow and ice won't get in the cracks and crevices.
Ria also in ME
June 3, 2010
0

found this helpful
Check out www.popupexplorer.com and do a search. This question comes up now and then. If you don't find your answer, sign up and ask. There are lots of great guys and gals there who have lots of information.
Roofs are a hard one though--not sure what they'll suggest!
June 3, 2010
0

found this helpful
I guess I need to be more specific. We have fixed the roof, we are now trying to fix the inside ceiling.
All that is on the ceiling now is foam. Sorry.
May 17, 2017
0

found this helpful
I am doing a Fleetwood camper now. We cut the vinyl aroun the edges of the ceilinf with a knife, stripped the vinyl and wet and fotting plywood down to the foam insulation amd imstalled with 3m spray glue 1/4 in primed liam plywood. We attached the plywood below the alum angle that previously held the old plywood and will paint the ceiling with an exterior water based product. We may need to apply a small alum angle on the sides of the top to cover the screws we used. Neatness in your workmanship makes all the difference in appearance. We used a 2/4 "T" brace to hold the ceiling in place while the spray glue set up for about an hour. Good luck with your project.
Add your voice! Click below to answer. ThriftyFun is powered by your wisdom!