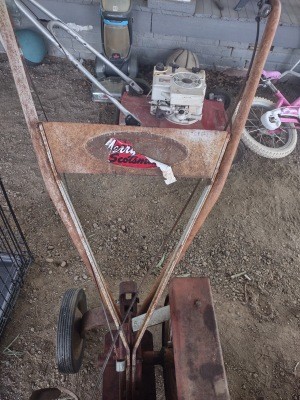 In process of full restoration of this non running Merry Tiller with chain drive and 5hp Briggs and Stratton engine. Was given to me looks like it needs a coil and points oil change. It's either 1908 or 1976? Not sure also was wondering what it is worth? Thanks in advance.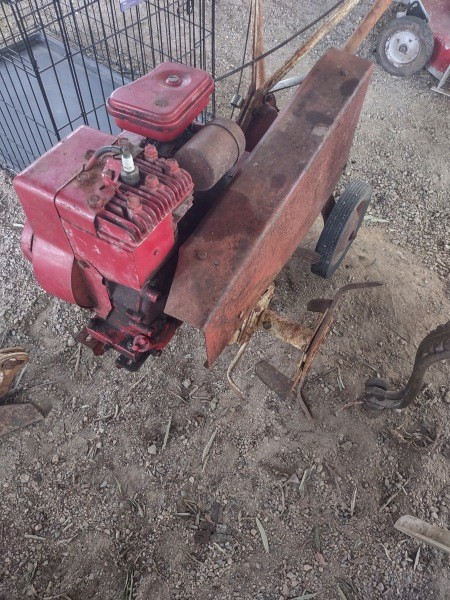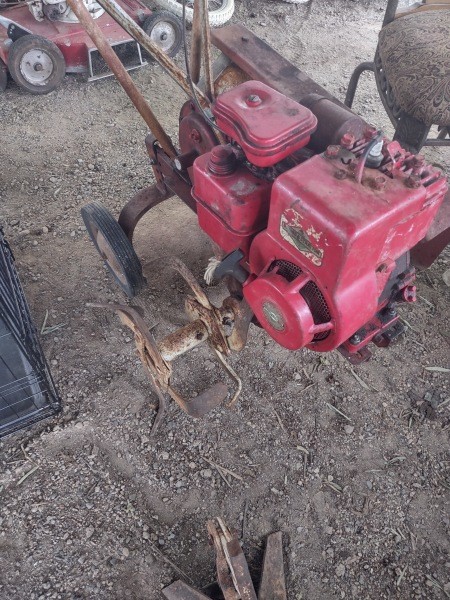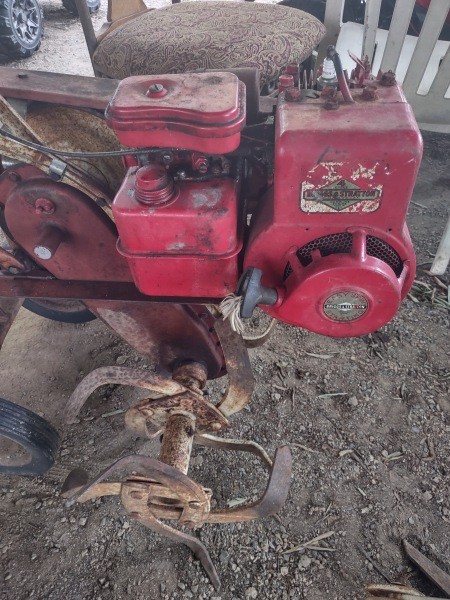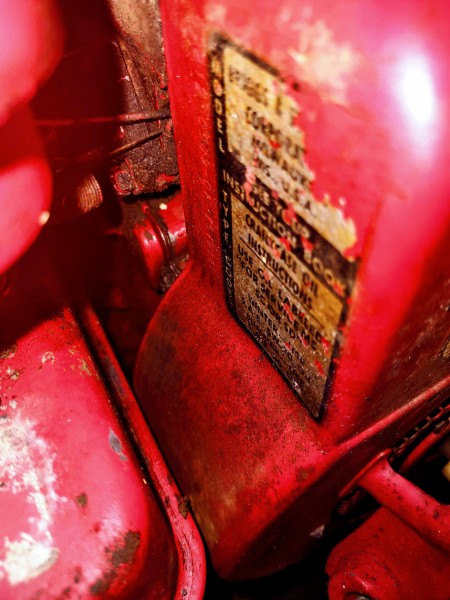 Answers

Judy
Gold Post Medal for All Time! 677 Posts
July 8, 2022
0

found this helpful
According to this forum, Merry has only been around since the 1940s, so hours cant be older than that. They can answer all your questions. www.mytractorforum.com/.../

July 8, 2022
0

found this helpful
The Merry Tiller has always been popular, so it will probably be well worth your time to restore it.
Your best avenue to go with asking for help will be to join several forums, as these members usually have a lot of knowledge about vintage machines.
Join several so you can decide which ones work best for you.
www.mytractorforum.com/.../
www.smokstak.com/.../
www.mytractorforum.com/.../
vhgmc.co.uk/.../
www.gardentractortalk.com/.../
This site has several vintage Merry tillers for sale but it's difficult to place a value as so many things depend on final value:
especially where you are located, as this cannot be shipped.

CDC
Bronze Tip Medal for All Time! 59 Tips
July 8, 2022
0

found this helpful
This Merry Tiller sold for $15 @ auction:
www.equip-bid.com/.../1803
Here's a forum that may be of interest:
www.mytractorforum.com/.../
MacKissic carries Merry Tillers & they may be able to help you, as well. www.mackissic.com/.../

August 1, 2022
0

found this helpful
This Vintage Scotsman Merry Tiller 3hp was sold at $100
www.shoppok.com/.../a,50,119138,Vintage-Scotsman-Merry...
Sold for parts or repair.
Merry Tiller Suburban Tiller 5hp in very nice condition, it runs good, sold for $265

August 1, 2022
0

found this helpful
I found Merry Tiller Walk-Behind Tiller Tractor 3 4 5 h.p. Sales Brochure Manual
www.ebay.ca/.../233416886227
It is dated 1973.
Merry tiller front tine roto-tiller, Briggs & Stratton 5 HP sold in Wichita, Kansas for $143
www.purplewave.com/.../Lawn_and_Garden-Lawn_and_Garden-Kansas
Not only is the condition of your Tiller Tractor important, but also the demand in your area, as shipping is expensive.

August 1, 2022
0

found this helpful
I think this site will be useful to you
"In about 1966 new, stronger handles were fitted, now attached to the chaincase by a single bolt, through welded on brackets. Serial numbers had restarted with an M prefix for Majors, P for Professionals and a T prefix for Titans. The Titan looked similar to the Major but shared few components, having a different, all roller bearing chaincase with three sets of chains, a stronger hitch casting, different chassis, larger 5HP engine and two sets of belt pulleys for changing speeds. The Professional continued with a new, stronger hitch casting and the same handles as the swiveling type fitted to Titans and optional on Majors. In about 1968 the engine on the Major changed to the Briggs & Stratton type 80200.
Still a 3HP unit it had a pulsa-jet carburetor that fitted on top of the fuel tank, which was now behind the engine. The extension tines had swaged tubing instead of coupling tubes to join them together. These machines sold in large numbers and by 1974 the Merry Tiller was "Britain's Top Seller". The use of plastic transport wheels and, in about 1976, a 4hp engine for the Major seem to be the only changes in a decade."
merrytiller.co.uk/merry-tiller-history.htm
Suburban Merry Roto Tiller Gasoline Walk Behind sold for $145
www.auctionsinternational.com/.../basic
It has a Briggs & Stratton 5Hp gasoline engine with compression.

December 15, 2022
0

found this helpful
Hi, how are you making out looking for information? I have the exact same one, and I can only barely see your model and type but it looks the same.
Model: 130212
Type: 0521-01
Answer

this Question