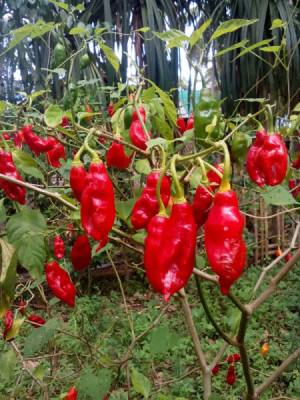 My father brought this chilli from somewhere. He re-produced it by planting the seeds from over ripe ones. It's been standing there for years and I never knew it was famous and rare until someone came to ask for these chillis. People are looking for it everywhere in my place and they have found it in my garden. They call it the "siling demonyo" in my local dialect, where "sili" means chilli and "demonyo" means demon - pertaining to its level of hotness. I once tasted it and it really brings you to hell!
This type of chilli pepper is famous in the Bicol region in the southern part of Luzon in the Philippines. The place is famous of making hot dishes like "laing" and "bicol express" and one of the main ingredients is chilli.
It took me months to find out it's real name. I tried searching on google with the name "siling demonyo", but never found any information about it. Until then, I started comparing images and found one similar image to the ones standing in my garden. The original name is Naga Viper where it was once declared the hottest chilli pepper in 2011 by Guiness Book of World Records. It's actually a hybrid type of plant from England produced by a chilli farmer named Gerald Fowler.
This plant created bright red fruits that brought interest to my garden. It's a plant that serves as a decoration. And I don't have to buy a Christmas tree. Only, you have to stay away a little bit if you don't want to feel the biting sensation when it gets into your skin. Lol! Especially the ripe ones.
Here's a tip for every one. Once you find any rare type of plant, take the chance to reproduce them by collecting the seeds or any part of it that can grow. Soak in an amount of water until it produces tiny roots and transfer into a pot. By doing that, you can have those plants in your garden and soon when it grows you'll never have to look for it anywhere.