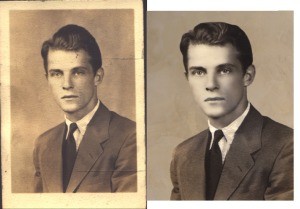 I have seen several articles on ThriftyFun pertaining to the restoration of old photos. They were well written and often showed before and after pictures depicting very impressive results. In most cases those results were obtained by using a 'paid for' computer software.
One such software is 'Corel'. It can be purchased, outright. A lot of people first encounter Corel by it being included in the overall cost of their computer's operating system. It came with my computer, and would require purchasing if used past the trial period.
Adobe's 'Photoshop' is probably the most well known software for use in the restoration of photos. Without a doubt, it is an excellent software. You will pay dearly for that excellence.
But let's remember, this site is all about being thrifty and having fun. There is yet another software which can produce excellent restoration results and is completely free! That software is GIMP. It is written in many languages and is available for Windows and Mac. It's authors are experts from around the world who are constantly refining and updating the software.
What I like most about GIMP is how easily it can be adapted to your learning skills. Often, a picture can be greatly improved with one click of the 'White Balance' tool. In contrast, a badly damaged photo may require the use of many tools and take many hours to produce the desire results. You set your own pace and you can learn as little or as much as you want.
If you need advice on a project, or want to learn a new technique, the GIMP forum provides help at no cost to you. If you don't already have an image editing software, I urge you to take a look at GIMP.
I have attached an example of my work using GIMP. When you view the picture, remember these three things:

I am a self taught amateur
The Restoration is not complete

...and yes, I have done a few things to enhance the picture rather than attempt to keep it as near the original as possible.
Get GIMP, Y 'all!