I am in distress and I do not know what to do. I have a hard time to find 'free vet for animals' due to my financial hardship. I m on SSDI, deaf and handicapped. My cat have a bad abscess on her back for past months. I tried to used my old vet long time again when I had a dog but my dog passed away. They will not accept me for help without payment. I tried to asked them if they have information where I can go for help. They told me, no one.
Answers

Iceskater
Silver Answer Medal for All Time! 320 Answers
July 9, 2021
3

found this helpful
Best Answer
Please contact your local SPCA, Humane Society, or other animal shelter/rescue organizations. You might also call your nearest veterinary school (they sometimes keep a list of providers and will likely be sympathetic). This is such a stressful situation. Thank you for reaching out, and best wishes for your cat's speedy recovery.

DianaHM
Silver Answer Medal for All Time! 440 Answers
July 9, 2021
2

found this helpful
Best Answer
There are some wonderful nonprofits and foundations you can source online that will provide emergency assistance for pets with critical needs. Some focus nationwide while others focus in a particular state. A few of these are the Face Foundation face4pets.org/, Angels for Animals, Help a Pet, and Pet Fund thepetfund.com/.
With the popularity of social media and sites like Go Fund Me www.gofundme.com/, many people are electing to raise funds to help with veterinary bills, upcoming surgeries, and other necessary procedures. Many friends and family are quick to come to the aid of a loved one, and some will be willing to help your pet. A newer crowdfunding site launched exclusively for helping pet-parents afford their vet bills and avoid economic euthanasia. CoFund My Pet cofundmypet.com/ funds can ONLY be spent at veterinary clinics anywhere in the U.S., preventing fraud.
Sometimes it is important to reach out to friends, family, members of your church, or other supportive individuals for financial assistance.

July 9, 2021
0

found this helpful
Best Answer
Sometimes it is difficult to receive completely 'free' vet care as even the helping sites have limited money/budgets and may not be able to completely pay all costs of a costly surgical procedure.
Most surgeries must use Anesthesia with a pet and this is usually costly.
There are lots of information on sites offering help with vet bills so you will have to 'weed' through each one to see what might be of benefit to you and your pet.
You may have to apply to several sites to get the ball rolling as these sites sometimes need a few days to process a request and if it is 'sorry - not at this time' then you need to already have another site working on your request.
There are always lots of questions/forms to complete.
www.humanesociety.org/.../are-you-having-trouble-affording...
www.paws4acure.org/helpfulresources.php
www.dogingtonpost.com/.../
I would suggest using a strong solution of Epsom Salt and very warm water on this abscess.
Warm a quart or so of water (hot enough that you can put your fingers in the water and not burn) add 1 full cup Epsom Salt (table salt if you do not have Epsom Salt) or even more salt.
Dissolve salt and place a thick washcloth in solution, slightly wring cloth and lay on top of the abscess. Pet/hold the kiddie so the cloth will stay on the abscess as this has a drawing effect and could help with any pain and also keep the area clean.
You can do this several times and it's possible the abscess will burst after several very warm applications.
This procedure is safe (do not use HOT water) and can be soothing to the pet.
This should not stop you from consulting a vet as there could be infections that need attention.

July 10, 2021
0

found this helpful
Best Answer
Contact your local social services. Ask them about the free healthcare for pets. They will also have a listing if low cost to free vets that are based on income. I am from Virginia so here we have a pet store called care-a-lot!! Not sure what part of the world you are located but if you want to check and see if they have one close to you, they are very affordable and each month they have specials.
I sincerely hopes this helps you because I am very familiar with vets being so expensive but trust me when I tell you there is help out there, you just have to a a little bit of research. Good luck and continue being safe!!
Answer

this Question

Are there any vets or organizations that provide immediate help with medical procedures. My dog has a foxtail in his ear and I can't afford the procedure.
I took him to a vet and they want $380?
Answers

Pghgirl40
Bronze Feedback Medal for All Time! 196 Feedbacks
June 3, 2018
0

found this helpful
Best Answer
Did you explain your situation to the vet who gave you the quote and ask for a sliding scale? Some do that. Asking can't hurt.
Some larger vet practices have a free care fund that you can apply for. If you have a local animal shelter, they may be able to tell you who has that program.
Last suggestion is to set up a Go fund me type request and share your story with a picture of your pup. Then post it on social media. Be sure to link it to your bank so you can pay the bill with the funds.
Good luck!!! Healing wishes for your fur baby!

Lizzyanny
Bronze Feedback Medal for All Time! 226 Feedbacks
June 4, 2018
0

found this helpful
Best Answer
That is not a bad amount to charge for this procedure as it requires anesthesia. Some Vets offer "Care Credit" to pay off a bill, but is does require a credit check. Ask the Vet if you can pay it off in 3 or 4 payments. I that doesn't work call different Vet offices and explain your situation and see if they will help.
Answer

this Question

I have a cat who needs to see a vet. I can't afford one for her to see, but fear that if she doesn't see one soon, she can meet her demise.
She is about 8 years old, still seemingly healthy, very happy, and very lovable. My main thing is that she is vomiting mostly everyday. We take food away for 24 hours, she stops. We give it back to her, it starts up again.
Who would do the exam and help her out for little or no cost? I am very much in fear for her. I would appreciate any help anyone who knows anything could offer. Thank you very much.
By LP81 from Indy, IN
Answers

September 2, 2010
0

found this helpful
Many many times when cats vomit is is due either to hairballs, or the food they are eating. Hairball stuff is cheap, comes in a tube and is about $5. For the food, change up to a very expensive high quality one. Try the smaller 5# bags first, to see, but usually this will do the trick. Most cat foods are garbage, and the cats puke all the time. I buy 100# of cat food a week (neighbors dumped cats and I am stuck with the bills, and can only afford to spay so many at a time, ridiculous.) Anyways, I can not afford the best stuff for all these cats, and sometimes I do buy the cheapo to get me through, but they usually start puking again.
Right now, for some reason, Red Flannel brand is doing a great job for these cats. I believe it is a by product of Purina, says made for PMI nutrition, but anyways, this one is cheap, $16 for 20#, and works well. But I have kittens here I am trying to tame and place, and needed the best possible for them, so no diarrhea or puking. So choked and spent $33 for a bag of Solid Gold, this stuff is fabulous! Whenever I have a sick kitty, that is the food I buy, expensive but still cheaper than a vet bill.
Last, you can shop around for vets and find out who helps people who do not have enough funds right now. There are some out there, just have to call, make connections and find the right one.
I wish you and kitty the very best!
Dana

September 3, 2010
0

found this helpful
Does she vomit shortly after she eats, or at other times? Is it liquid,cat food, hair balls or what? What kind of food does she get,is it dry or wet & what brand?
It could be hair balls like suggested. We had 1 cat that had major constipation problems & the other would cough & throw up. We began giving them Iams hair ball remedy dry food(I think it's a pink bag) & that solved the problem.
Could be the food too. If you give her dry food, look at the ingredients-if the 1st ingredient is corn,get her something else tht has meat(like chicken) as the 1st ingredient-the other stuff is bad for them.
My old kitty for years, has had an occasional problem with throwing up shortly after eating. I don't know why, except maybe he eats too fast then drinks a bunch of water, but he'll eat & within 20 min or so he'll throw everything up.

Lizzyanny
Bronze Feedback Medal for All Time! 226 Feedbacks
September 3, 2010
0

found this helpful
Some cats gorge (overeat) and this causes them to vomit. Try small feedings throughout the day and see if that helps. Gorgers are really bad if they are fed "free choice" (food available at all times). You may also want look into raw feeding. There is good information on the internet and it is less expensive. Many cats who have constant indigestion clear up with raw feeding.

June 16, 2011
0

found this helpful
My kitty did the same thing and come to find out she had a tumor and it had gone all over her, she would eat and throw up. Try to get help for her as soon as you can.
November 4, 2012
0

found this helpful
I have the same problem, though I managed to borrow the money for an office visit. My cat who was a stray, I took her and her two 6 week old kittens in which she deposited on my doorstep 2 months ago.
The kittens are doing fine, but starting yesterday the mother is throwing up every time she eats. Now she won't eat. Plus she's had diarrhea. I am going to take her to the vet tomorrow, but my concern is I won't be able to afford the treatment if it's anything serious.
That only leaves two options to me. Euthanisa which I probably can't afford either, or just taking her home and watching her waste away and die. I am so stressed and upset. I am a woman fighting cancer and this is not good for me. I feel for all you others that have the same problem.
Answer

this Question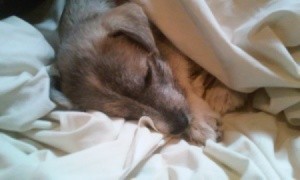 I have a sick puppy and no money and it's been sick and throwing up for three days. I need to know if there's someone who could help this poor little puppy.
By Gina N.
Answers

DCA
Bronze Answer Medal for All Time! 220 Answers
April 6, 2015
0

found this helpful
Veterinarians devote many years and pay much money for training in college and medical school. They then must pay for their clinics, staff, etc., and also have to live and pay their expenses like the rest of us. So, there are very few "low-cost" vets.
If you were ill or had an accident, you would expect immediate medical care and would probably pay for some or most of it yourself. I suggest you find a way to provide medical treatment now for your pet. The longer you wait the more difficult and expensive the problem will be. Your friend is suffering and needs help now.
Read More

Answers