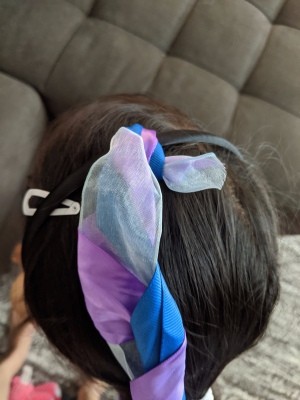 If your child is interested in Frozen - this is a fun project that could be used play/pretend/dress up and doubles as a learning lesson.
With a little imagination you can make this is faux braided hair "in ribbon" headband (using Frozen inspired colors - blue, sky, sheer blue, purple.)
For the teaching lesson, I taught my daughter how to braid with the ribbon and she did this all by herself minus the knots (which I did). It was easier to show her how to braid using ribbon.
She loved the outcome and I saved a lot of money. Frozen branded faux headbands are $10 to $18!
Reference if you need help on basic hair braid: https://www.wikihow.com/Do-a-Basic-Hair-Braid