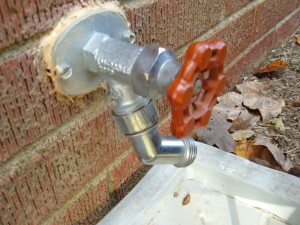 When you get old like me, I hope it's not unusual to have a senior moment and feel really stupid sometimes.
The other day, I cut the outside faucet on about halfway to get some water and when I started cutting it off, either way I turned it, it would not cut off. I ran into the house to get my husband to cut the water off. Instead, he went to the faucet and in just a second he had it off. I was surprised.
The problem was, I was turning the faucet the wrong way, which was wide open, and in my panic, I was not getting anywhere.
Afterward, I remembered the old saying, "Righty tighty and lefty loosey". It's true and works for screwing a screw in and out as well as plumbing.