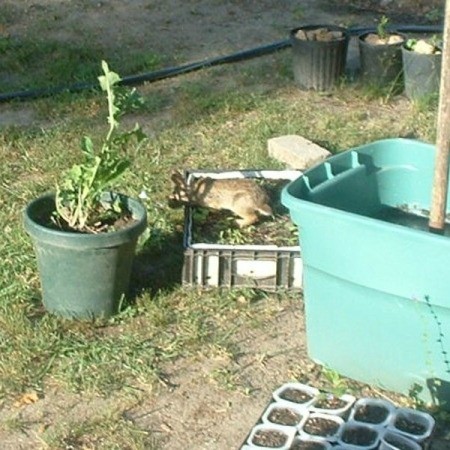 Photo Description
I didn't enter this picture into a contest because of it's poor quality. I have won a few ThriftyFun contests, lately. Those winnings are going towards a much better camera. ThriftyFun is such a fine website, I hope to post many more and much better quality pictures.
The subject is an orphaned rabbit who (yes, who) has taken a liking to me. I have given him (?) the name 'Robbie'. Robbie is the delight of my day. He loves to show me all the little tricks he is learning as he grows.
He spends all day in my backyard/makeshift nursery, either near me, or waiting for me to come out. Poor fella, I guess I'm the only friend he has.
One day he will have forgotten the rabbit pellets I bought to supplement his diet, the many opportunities he took to pose for my camera, the sheer delight he knew from exploring my back yard, and yes, even me. I hate to see him go. Maybe I'll at least have the rest of spring and all of summer with him.
I sent the above picture in an email to my sister along with the following text:
Robbie likes Bachelor Buttons. He has devoured half this plant, so far. He's a big show off. He runs around in big circles like a horse on a race track, kicking up his heels like a colt. Then, he stops and jumps straight up in the air and does a full circle spin before landing. Then, he looks to see if I saw what he did.
Show off!
These are the days.
Photo Location
My backyard
Add your voice! Click below to comment. ThriftyFun is powered by your wisdom!
May 30, 2015
0

found this helpful
Little things in our lives often make life worth living!
May 31, 2015
0

found this helpful
I was looking for you & your rabbit that you named Robbie; so glad to know that you are sharing more photos of him with all of us that look at Thrifty Fun's e-site to see what this day has brought to us retired folks here at home.
Keep up the great work!
June 18, 2015
0

found this helpful
Paula Jo C
Robbie hasn't been around much, lately. I was beginning to think he had forgotten all about me. Then it dawned on me. He hasn't been around because he had to go to greener pastures.
We are not in a drought stage yet, but the clover in my back yard is burned and brown. When he does come, I give him plenty of pellets. Maybe after a good rain, he will be back on a regular basis.
Add your voice! Click below to comment. ThriftyFun is powered by your wisdom!