Julia
Bronze Post Medal for All Time! 146 Posts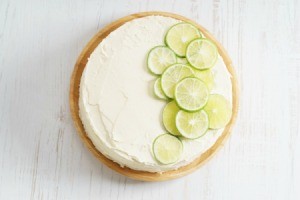 The best I've ever made. Pretty and tastes good too.
Ingredients:
2 cups confectioners sugar (sifted)
1 Tbsp. butter (softened slightly)
1 1/2 Tbsp. Rose's Lime Juice
Directions:
Stir it all up with a fork, and add more sugar if you're making a frosting that needs to be thicker or add a bit more Rose's Lime to make it thinner as in a glaze. Add more butter if you're making enough for a large cake along with more Rose's Lime and more confectioner's sugar. You'll know when it's right, just by tasting.
Rose's also makes a pretty red Grenadine that's flavored with pomegranates that is just delicious as well.
You find Rose's Lime (or Grenadine) at any alcoholic beverage store, and most grocery stores carry it in with their beverages or mixes or juices. I keep both all the time now just for frosting and glazes.
Incidentally, neither of them contains any alcohol at all. It is a product made to go into mixed drinks though.
It has a much better flavor than the bottled lemon juice.
This is just about the easiest cake or cookie frosting I've ever made and I found it out by accident. My son's favorite cake is the Lemon Supreme Pound Cake, with a light lemon glaze. Well, I got the cake all made and ran out of lemon juice. Looked in the fridge and there sat the Rose's Lime Juice, so "necessity being the mother of invention". We all know about that, don't we?
Servings:
N/A
Time:
10 Minutes Preparation Time
N/A Minutes Cooking Time
By Julia from Boca Raton, FL