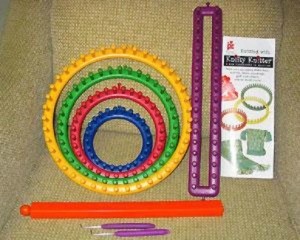 I have a set of round looms and am now knitting a project on them. I have long since misplaced the "stick" that comes with the kit and I have used several substitutes such as a piece of metal stick or a knitting needle. The other night we had kabobs and it occurred to me that the bamboo skewers might work as a knitting stick. So I washed them off and tried them. They "do" work, and they are flexible and fairly strong. The points may break off, but they are usable even then. Next time I see a set at the Dollar Store, I will stock up.
By pam munro from Los Angeles, CA
I want to know the name of the round plastic knitting looms that are sold at Hobby Lobby. I was just there 2 days ago, but can't think of the name. Thanks.
Jean from NC
Answers
December 23, 2008
0

found this helpful
Hi Jean. Are you talking about the Knifty Knitter round looms?
December 23, 2008
0

found this helpful
I found the name its Knitting Creations, they come in pastel colors. thanks all
December 24, 2008
0

found this helpful
I have found them, four of them, on the miles kimball website under hobbies/ arts & crafts. Flower looms, I think they are called.
http://www.mileskimball.com
December 25, 2008
0

found this helpful
Yep, that is what they are called. They come in round sets and now ovals and elongated ones, too. You can find them at walmart and most craft shops, but WM is cheapest. Have fun!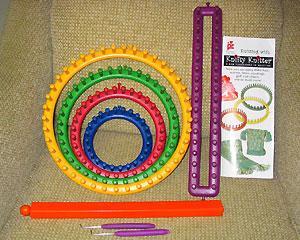 January 5, 2009
0

found this helpful
Interesting to see this post as I just bought the knitting looms yesterday. It says only that you can make hats, but I am certain I can make more than just hats. Any ideas?
Karyn
January 5, 2009
0

found this helpful
I've used the knifty knitters (by Provocraft) for a couple of years now. The ones at Hobby Lobby (pastels) are made by a different company. You can make many more things than just hats. I've made baby blankets, scratch mitts, booties, bonnets, gloves, scarves, muffs, magic scarves (for the head), fingerless gloves, mittens, etc. I have projects to do which include a sweater coat, a few sweaters, knitted toys. The groups have just gotten done with alot of xmas items. Any questions, please ask. I love to get others hooked on looms! Happy Looming
By Tami T. (Guest Post)
January 5, 2009
0

found this helpful
It possibly be the Knifty Knitter looms.I have them and they are great I've already made 2 hats. I've also got the long looms and am working on an afghan and made scarves also. I recommend them very highly.
Answer

this Question
Can you use thin fabric strips with round knitting looms? How, and to make what? Thank you.
Answers
March 9, 2017
0

found this helpful
You are talking abut circular knitting. The Knifty Knitter is the brand name of a round knitting loom. I found this website with Knifty Knitter sock patterns: hubpages.com/.../free-knifty-knitter-sock-patterns
I would assume you could use a round knitting loom for hats, ponchos, and other items that are seamless.
Hope this information helps you get started.
March 9, 2017
0

found this helpful
You can try cutting strips from a t-shirt. Depending on the size of the loom you can know what size t-shirt. Look up Hula Hoop loom for ideas. :)
March 10, 2017
0

found this helpful
This is probably the easiest way to knit but cutting strips of fabric can be tricky.
Your best source of information would be to Google knitting stores/classes with your zip code and find a local shop to visit. Generally the personnel are very happy to answer questions and also a good place to buy any supplies you need. They can help you with what size fabric to cut as well as best type of material to use and how to finish ends.
There are lots of things you can make with a round loom but here is a link to show you some suggestions - all you have to do is substitute fabric for yarn:
Answer

this Question
What is the average price for round looms?
By Lorena guevara from El Salvador

Answers
December 20, 2017
0

found this helpful
Michael"s has the knitty knitter 4 looms for about $ 14.99 plus tax or sometimes you can by a single green loom but I think there about $ 10.00 was about a month or so
Read More

Answers
Why is it that it's getting harder (tighter) to loop the bottom yarn over the top yarn?
By Jen.K

Answers
December 27, 2014
0

found this helpful
You missed a row somewhere. Keep going, your rows will be tight and look good.
January 31, 2016
0

found this helpful
You're knitting too tight.
Answer

this Question
I just bought the Boye extra large round Loom that has 40 pegs and is 11 1/2 inches in diameter. I was just wondering if anyone knows if I use all the pegs on it to knit a flat panel, how wide it would come out? I am curious to know so that I can decide on how to make a blanket with it. Thank you!
By Amy D.
Answers
November 4, 2014
1

found this helpful
You're not going to use all the pegs to make the flat panel, so the 40 inch would probably shrink to 36 or so, do a few rows and measure the bottom.
December 12, 2014
1

found this helpful
You just wind the loom to the very last loop, then go backward with it instead of forward. This won't join it and you can knit flat.
Answer

this Question
I have a round knitting loom, I would like to make a prayer shawel. It uses a knit 3 purl three, to make a seed stitch. Could anyone tell me how to start it?
Thanks,
Charleen
Answers
March 5, 2005
0

found this helpful
Does this help?
March 17, 2005
0

found this helpful
My mother who is an avid knitter told me that seed stitch consisted of knit one, purl one. As I understand it, the row is always started and ended with two knit stitches. Are you doing a double seed stitch?
Answer

this Question
Does anyone know how to do a yo (yarn over) ssk (slip slip knit) stitch on the round looms? Also, a k2tog (knit 2 together on the same loom?).
Thanks,
niftienitter from Shelton, WA
Answers
By Linda Kennedy (Guest Post)
July 9, 2008
0

found this helpful
There are a number of tutorials online.
This link seems to have the simplest navigation: site.loomknit.com/Instructions.html
Answer

this Question