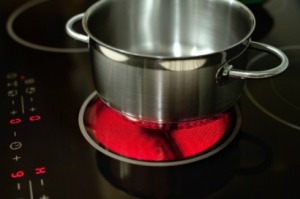 I am getting a new radiant cooktop and someone has told me I cannot use copper bottom pans on it. Anyone have any information on this?

Gardencraft from Danville, NH

Answers
By Marlene (Guest Post)
March 8, 2007
0

found this helpful
I use them on my cooktop. It is about 1/1/2 yr. old but I can tell you this, I'd never buy another one!! I was simmering some rhubarb with a lid on the kettle one day and it cooked over slightly. NO ONE told me that sugar will pit the cooktop! Also, if anything boils over, it sticks to mine because the top doesn't cool off very fast. I'm really disappointed in it and would trade it off for a regular one in a heartbeat. Make sure you talk to several people who have them before you have it installed - just my 2 cents worth. If anyone has any ideas on how to clean it really good, I'd appreciate them! I've found that a scrubby crocheted (I think - it was a gift) from nylon net is the best cleaner with the liquid stuff that came with my stove but some spots - can't get them off!!
By Linda, Las Vegs, Nv. (Guest Post)
March 9, 2007
0

found this helpful
If radiant cook stove is glasstop range, I have one and love it. The cleaner I use is Weiman Glass Cook Top Cleaner. After it is cooled, scrape with a razor edge carefully for any big stuff. Shake up the bottle, squirt a small amount onto the cooktop, rub it into the soiled spots with your finger, let sit for just a minute or two, srub with a Scotch Brite multi-purpose no scratch scrub sponge. Works wonderfully. I have had my new range for 2 years and it still looks like new. I'm still getting used to electric heat. I do miss my gas stove. But there is no gas in my area. As far as copper bottom pots. I have no idea about them. I know it was not recommended for glass tops. I was lucky, I aready had the right pots.
March 9, 2007
0

found this helpful
I don't know about copper bottoms, but I do know the bottom of all your pots and pans must be completely flat, not warped by heat at all, or they won't work well. Even if you don't think your pan has a warp in it, it might.
By Doggy (Guest Post)
March 10, 2007
0

found this helpful
A glasstop came with my new house. UGH. I HATE it. I use "barkeepers friend" (about $2.00 walmart) on the top. ehhhh...works well enough, but the constant on/off of the heat makes 'real' cooking impossible.
April 7, 2007
1

found this helpful
Our house came with a ceramic top stove and I can't WAIT until I can afford to replace it with a good old coil stove. Not only is it a pain in the you know what to do regular cooking on, but I have burned myself SOOOO many times by touching the surface long after the heat has been cut off. Worst of all, I just discovered that it isn't safe to can on the stupid thing, so now I have to fork out extra money for a single burner gadget I can safely use for pressure canning.
Before ANYONE buys a ceramic top stove, research it. I would never ever own another one.
By Bill J. (Guest Post)
September 12, 2007
0

found this helpful
All of the following information came directly from the GE website.
What type of cookware can I use on my smooth glass cooktop?
* Flat bottom pans are essential for good cooking performance. Most current brands sold today have flat bottoms. Much older, used cookware and/or thinner cookware will show signs of no longer being flat. Non-flat pans may crack the glass.
* Use Medium or Heavy-Weight cookware.
* Stainless Steel is highly recommended. A sandwich clad bottom is especially good because it combines the durability and atability or stainless steel with the heat conduction and distribution of aluminum or copper.
* Heavy-Weight aluminum cookware is also recommended. It conducts heat faster than other metals and cooks evenly. Aluminum residue sometimes appears as scratches on the cooktop, but these can be removed if cleaned immediately.
* Copper bottom pans are also good, but they can leave residues on the cooktop that appear as scratches. These can be removed if cleaned immediately, but do not let a copper bottom pan boil dry. An overheated copper pot will leave a residue that will permanently stain the cooktop.
* Porcelain/enamel pans give good performance only if they have a thick, flat bottom. Avoid boiling these pans dry, as porcelain can melt and fuse to the surface.
* Glass or ceramic cookware is not recommended. These pans may scratch the surface. Glass is a poor conductor of heat so cooking times will be longer and they may require constant attention during cooking.
* Stoneware is not recommended. It may scratch the surface and will give poor performance.
* Cast Iron and Coated Cast Iron cookware is also not recommended. It is slow to absorb heat and could scratch the cooktop. Once this type of cookware heats up, it holds an intense amount of heat which is transferred to the cooktop. This can cause the element to shut down as a response to the temperature limiters which indicate surface temperature is too high for cooktop components to handle.
back to top
8. How do I clean my smooth glass cooktop?
* Cooktop cleaning cream (such as "Cerama Brite" or "Elco") is the best cleaner for glass ceramic cooktops.
* Cerama Brite- Shake well. Apply directly to cooktop or damp sponge and rub lightly. Rinse thoroughly and dry with a soft cloth. This can be used on warm or cold ceramic cooktops.
* Elco- Rub a small amount (a few drops- less is better) of creme onto soiled area using a dry or damp paper towel. Wipe until all soil and creme are removed.
* Daily use of cooktop cleaning creme will keep cooktop looking new and easy to clean.
* For burned spots or spillovers: remove the excess soil with a razor scraper. Hold the scraper at about a 30 degree angle to the cooktop and scrape off the soil. Then, scrub the cooktop with cooktop cleaning creme. Rinse well and wipe dry.
By susie (Guest Post)
November 17, 2007
1

found this helpful
Hi. My mom has a Frigidaire glass cook top, and i hate it so much. I will not cook on it anymore, there is no control with pots spinning when i am mixing a sauce pan for something simple. You need the pot to be heavy. AND what i detest is the clean up the cream and the scraper, what a waste of time. i have a simple coil Frigidaire, and IT IS HEAVEN compared to the glass top.
With poor heat control, this is definitely NOT an oven for a real chef! note that i love to cook, but this cook top deters me! My sister just moved into a new house, and i hope she changes her stove IMMEDIATELY to a coil or gas. Too many limitations with the glass cook top NO aluminum, no cast iron, no copper, and CLEAN IT right away, use this blade to clean it etc etc! Who designed this and where did the design come from?
Live on COIL STOVES FOREVER!
Susie from Hamilton, Ontario, Canada
By rita smith (Guest Post)
June 2, 2008
0

found this helpful
Can I use essteele brand saucepan on ceramic cook top?
By Gini B. (Guest Post)
February 8, 2009
0

found this helpful
I am seriously considering replacing my old cook top with a radiant glass one. Your feedback on these stove tops is so very negative! Is is possible to get more positive replys? I really would appreciate that information before I buy.
Thanks!
Read More

Answers
I just got an aluminum stove top espresso maker. In the instructions it says that it cannot be used on a ceramic glass stove. What will happen if I use it on a glass top stove?
By andrew from JHB, SA
Answers
September 26, 2009
0

found this helpful
It's my understanding between the heat and the potential for moisture that it can cause a suctioning that will cause the cook top to implode.
September 26, 2009
0

found this helpful
Well I used my aluminum espresso maker on a glass top stove the one I have didn't come with instructions not to do so but I got coffee not espresso I was disappointed.
September 26, 2009
0

found this helpful
I hope the place where you purchased it will take it back and return your money. I wouldn't risk using it. I am curious if this info was on the outside of the box? If not, you have very good grounds (no pun intended) to force the store to take it back because no caution/warning on the packaging!
Read More

Answers
Does anyone out there know if it is safe to use porcelain enamel pots on the stovetop (ie Rachel Ray, Kitchen Aide, etc.). I love the pots but am afraid to purchase them if they are not safe. Help!
Barbara from Merchantville, NJ
Answers
October 18, 2008
0

found this helpful
I do it daily with no problems.
October 20, 2008
0

found this helpful
Just one of my quirks but I feel much more safe using porcelain enamel than using teflon for health concerns and if your stovetop is glass it won't make a difference because metal heat is metal heat no matter the type ...
By (Guest Post)
October 20, 2008
0

found this helpful
Aren't these the same porcelain enamel pots our grandmother's used to use?
By Rosemary (Guest Post)
October 21, 2008
0

found this helpful
I use enamel pots on my ceramic stove top all the time. It's aluminum that you need to be careful not to drag over the top. It will scratch the surface.
Read More

Answers
My new house comes with a Kenmore Ceramic Cooktop. What are the best pots and pans to use on it? Any advice is appreciated.

Annie from Ozark, MO

Answers
By B.J.,Ky (Guest Post)
November 3, 2005
0

found this helpful
When I bought my ceramic cooktop stove the only thing that was stressed to me was to not use my old pots & pans unless they were completly flat on the bottom.I have had mine now for about six yrs.& I love it still!
November 3, 2005
0

found this helpful
I have a Kenmore ceramic stovetop, which I love. I now use Ultrex pots and pans from HSN. I had an almost-new set of another brand. I purchased a "try-me" pan from HSN and was hooked! Gave away my other set! Ultrex is reasonable, heavy, very flat-bottomed, heavy, non-stick (which has a 75-year warranty!), glass lids. I love it. Because it has such a heavy thick bottom, you use lower heat (and less electricity!). Can wash in the dishwasher or by hand - your choice. Good luck!
By Holly (Guest Post)
November 4, 2005
0

found this helpful
I had a ceramic cooktop many, many years ago. Discovered that I needed to wipe it after every use or it would stain from condensation and heat marks.
It stained slightly any way, but shortly after we put it in DH was transferred, so I have no idea if the consistent wiping made a difference in the long run.
September 10, 2009
0

found this helpful
Stainless steel and corning ware, not cast iron, good luck.
Answer

this Question
Every time I cook with my skillets on my ceramic cooktop it gets unbelievably black and dirty. Prior to cooking I scrub the bottoms of the pans with a soap pad and wash in hot water with Dawn and it still gets so black I have to use a razor blade. It's not as bad when cooking with my stainless steel pots.
The skillets are coated with nonstick. I think I've used every kind of cleaner on the market recommended for this type cooktop and the only thing that works is baking soda and it's so hard to scrub that it hurts my fingers. Is the problem with the type of skillets I'm using?
By weinerdog41 from Ft. Worth, TX
Read More

Answers