Save Money on Prescriptions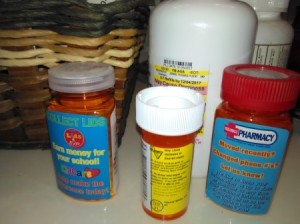 I work in a pharmacy and find there are several ways to save money on prescriptions that many of our patients are not aware of.
If you have prescription insurance, either call your insurance company or ask your pharmacy tech to find you the least expensive fill. Some insurance companies will give you a better copay if you fill with a 90 day supply. Others give a better deal if you fill with a 30 day supply.

Usually it is cheaper to fill with the generic rather than the brand name. But, not always. Ask.

If you are filling with a brand name and are not on medicare or medicaid, ask your doctor or pharmacy for a coupon or google the medication and get on the manufacture's website. Many brand names have coupons to bring your copay down, or to pay a good part of it if you do not have prescription insurance. A few examples of this would be invonkana, invonkanamet, contrave, xarelto, restasis, brilinta, crestor and a lot more. Some of the coupons require that you activate them before use.

**Most of these coupons are not legal to use if you are on medicare or medicaid**


If you don't have insurance or the copay is too high, look at the manufacturer's website and see if they have a patient assistance program. Some are surprisingly generous with their income guidelines.
I realize that some of you may use pharmacies that take the so called "discount cards" that you get free in the mail. Ours does not. The reason we don't take them is that many of those actually make the prescription cost more because they mark the price up so that they can take a 25% cut for themselves. Then they also charge the pharmacy a fee for using it. As a result, a prescription that we normally have a cash price of $15 will end up costing you $21 and you have paid more, not saved.
We have patients who get prescriptions filled at more than one pharmacy, because it may be cheaper at one over the other. However, I don't recommend it. It is not worth the small savings when you compare it to the risks involved. What risk?? Many medications may react negatively with another medication. Your pharmacists can not catch that drug interaction if you get it filled elsewhere and he is not aware you are on that medication.
Add your voice! Click below to comment. ThriftyFun is powered by your wisdom!
March 7, 2017
0

found this helpful
Thank you for the info on those cards they send you for prescriptions. I have been wondering how it worked.
March 7, 2017
0

found this helpful
I was so excited to read your advice. My son and I have a brand name inhaler (Qvar) that is not covered very well by my insurance. I went to their website and downloaded a coupon for saving $15 for the next several months. Good to go, I thought.
Unfortunately, my insurance is Kaiser Permanente and they don't accept coupons or anything like that. I have to go to their own pharmacy to use my insurance. I could go to another pharmacy but then I would have to pay full price (minus the $15 discount).
There were some low income programs available on their website but I don't think I would qualify. I'm glad that there is some sort of help available, even if it doesn't help me at this time.
March 7, 2017
0

found this helpful
The income guidelines for the patient assistance program are rather generous. So, check into it-you may be able to use it.
March 8, 2017
0

found this helpful
I will after I do my taxes and see how the year panned out. :)
Add your voice! Click below to comment. ThriftyFun is powered by your wisdom!