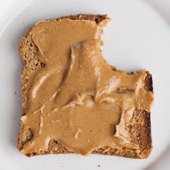 Tips for saving money on Peanut Butter as suggested from the ThriftyFun community.
Use Less
Try to use less peanut butter when you use it. It has a good flavor and a little goes a long way. The palm oils in peanut butter aren't good for your health. Using less helps with that too.
Editor's Note: Real peanut butter should only contain peanuts and salt. Be sure to check the ingredients of any brand you buy.
Use Coupons
Don't be faithful to only one brand. Use coupons and buy the brand that is on sale. Always check the cost per ounce to compare prices.
By Carol in PA
Buy At a Co-op
Find a good old-fashioned food co-op. Or do a miniature version, have your friends save empty jars and then the group of you order in a biggie.
Stretch With Honey
First of all, I try to buy as close to natural or organic as I can, but don't like the oil on the top. Any peanut butter I use, I always add honey to it, because I like the sweeter taste/smoother texture. It also depends on why/how your are stretching. For baking or such, probably not much you can do. Sandwiches, pancakes, etc, the honey works, stretches by maybe a quarter to a 1/3 more. And is very good for you. Try it. Depending on the price of your honey, I don't know that this would save you a lot of money.
By Beckie
Freeze Extra
When you find a good buy on peanut butter, buy lots and stick it in the freezer. Seems to stay fresh forever and doesn't change the consistency one bit.
By Susan M.
Buy In Bulk
Buy in bulk. I have a 5 lb tub of Fisher's peanut butter I got for 5 dollars at a bulk food store. Not all peanut butter has Palm oil, by the way. Check labels, there are many formulations so pick the one you think is healthiest. You can even make your own by grinding peanuts and adding nothing at all.
Peanut Butter Machine
Some stores have a peanut butter "machine" where you can grind it right there. It is fresher, healthier and often cheaper.
By Jess
Adam's or Need to Stir Peanut Butter
If you like the Adam's Peanut Butter but hate the stirring, store the jar upside down before trying to stir it. The oils then go to the bottom which makes it easier to stir. Once the peanut butter is well stirred, you can put it in the refrigerator and the oils will stay stirred. Put some in a smaller jar for more immediate use.
By Susan
Read More Comments