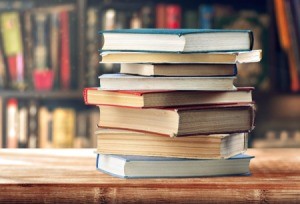 By Kelly Ann Butterbaugh
College is expensive; that's no news to anyone. While many know that scholarships, grants, and community colleges save money, what they may not know are the smaller ways to save money while they're already there. Books can be the costliest expense not covered by financial aid. With some courses totaling $200 in books, the investment for a full course load is overwhelming. How can money be saved?

Shop Around
Many colleges list the required books well in advance of the first days of class. (If they don't, e-mail the professor and ask which books he/she will be using.) Rather than wait in the long line at the bookstore, gather the ISBN numbers (found on the back of books by the barcodeevery book printed has one.) ISBN numbers identify the exact edition of the book so that you can always be sure you purchase the correct version. Start surfing the Internet for cheaper places. Such search guides such as www.textbookhound.com allow you to compare various sellers and their shipping discounts. Amazon.com also offers most texts at reasonable rates (Amazon often offers free or reduced shipping for larger orders.) but what's better is the used rate which is listed there as well. Many books that are listed under new and used are still in the shrinkwrap for almost half price. If on-line shopping isn't making you happy, then order it through your local bookseller who may charge less than the college bookstore. Stores like Barnes & Noble offer cheaper rates and order the book so that you can pick it up at the store and save on shipping.

Do I Really Need It?
Professors list required books for the course intending the students to read the books, not purchase them. See if your local library holds any of the books required for class. Bundles can be saved in literature courses this way. The major downfall is that you cannot write in your text, but that's the decision you make in buying or borrowing.

Again, check on-line. An e-book may be available for a book which will be cheaper than purchasing the hardcopy book. Jump on e-mail and ask you friends if they have the book from a previous course and borrow it from them (or buy it at half price and you're both happy.) Do some brainstorming, and e-mailing, and phoning to see if you can save a few dollars.

Tag Teaming
This method works well for friends who carry the same course load or at least two similar courses. List the books you both need. Then, divvy the list and each of you buys half of it (try to keep the costs even.) You'll need to plan ahead for the readings, but share the books as the semester rolls along. You'll each save half of your book cost, and you'll keep on top of one another to complete the readings on time.

Even though I love to surround myself with books, as a college professor I sympathize with my students' bookstore bills. If they can save a few and still complete their readings, I give them credit for their frugality in an expensive climate.

Answers:
Saving Money on College Books
Find out in advance, if possible, what you need. Then try ebay. (12/28/2006)

Saving Money on College Books
This is what I do to save money on school books:
You may not need the book for class at all. Make sure before you buy it.
Get the ISBN #'s off the books and shop around!!
After you get done with the book: SELL IT!! I usually sell mine on Amazon. (03/31/2009)


By Deb