August 23, 2009
0

found this helpful
Top Comment
I retired from teaching, and now write stories for youngsters. As a teacher, I used to go to the school depository where all old books were processed and I can assure you that many books get destroyed that are new as well. Most of these book were overstock or old, but still worthy of use. I home schooled my children and found the school an excellent source. Some schools require that a teacher request the books from the depository, but that usually is not a problem, you can always find a teacher. Libraries, and even book sellers, such as the one in the picture have book barrels or tables for overstock books which is another way to get free or cheap books. My library is stocked with free books. As an author, I keep many books for my friends and neighbors to borrow. Dr Robert E McGinnis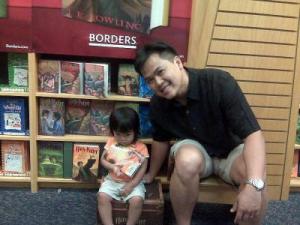 February 23, 2012
0

found this helpful
Top Comment
In one semester in college years ago, the cost for my books was over $200 and half of those books were used. I found the used ones not only to be way less expensive but more helpful as students before me had put notes from teacher lectures in the spaces on the pages saving me tons of time with my own notes. (Make sure the notes are similar to what you would have written.)
Our Psych 1 teacher was head of the Psych department for that school & told us to get our textbook where ever we could. It had to be a legitimate textbook but could be severely outdated or whatever, he didn't care. When asked "what if an old textbook has conflicting information?", he responded, "Great! Bring it up in class & we'll discuss why it was changed." We all loved that man for that!
February 16, 2010
0

found this helpful
Some thrift stores sell second hand textbooks, and a lot of times these books are in supurb condition. When you are finished using textbooks, unless you need them for reference, it might be possible to sell them.
Although I'm not sure how often something like this might happen, here's a cool thought: it is conceivable that you might buy a used book at a thrift store and then sell it and end up with more than what you paid.
February 25, 2012
0

found this helpful
I went to half.com, amazon (used), and ebay for my books. Sometimes you get foreign editions but the only difference I've seen is the chapters are in different order and sometimes they are titled differently.
Paying $20-$30 instead of $130 per book is great savings. Sometimes it takes a bit longer but I found I could barrow one from a classmate.
May 3, 2016
0

found this helpful
Check with your professor to see if an earlier edition will work for that class. Many changes are minor and will work just about as well and the professors don't mind.