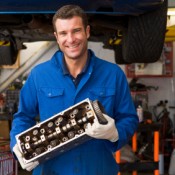 Consumers can lose lots of money yearly, by taking their vehicles to unestablished garages and mechanics, on unneeded and poorly done repairs. Before you need repairs, look for a mechanic who is: certified & well established, who has done car repairs for someone you know, and who communicates well about repairs, options and cost.
By Terri H.
Read More

Comments
Being a woman with an older automobile, I feel like I'm taken advantage of when it comes to car repairs. Does any one have any strategies for finding an honest mechanic?
Louise from Santa Clara, CA
Answers
One way for sure to get an honest mechanic is to ask around in your church who is a mechanic or who can offer suggestions. Hopefully this will be someone that loves god and enjoys working on cars and will not cheat you. Also is some phone books you can see christian logos (a cross or something) in the yellow pages. Hope this helps.
Karen - Elizabethton, TN
Regarding the question about finding a good mechanic, I have three tips. First, go to a place with a trusted name such as Sears. Next, take a man with you. He doesn't have to do the talking, but it seems to help. Or if this doesn't work out for you, ask a man who he takes his car to and then when you get to the repair shop, mention his name as who referred you. Good luck!
Amy - Garland, TX
1. Ask trusted friends and relatives for recommendations is your best source. Let the shop know you were referred by (name the person).
2. Act like you are knowledgeable on how your car operates when you go the shop. Don't be too talkative by revealing that you do not have a spouse and just don't know anything about cars! In my opinion, this can put you on the sucker list right away.
3. Go to the library and read up on your car to get an idea of how it functions; librarians will show you where the reference materials are. This may not seem like interesting reading material, but it can save you a bundle and well worth the effort.
4. You may want to check out a few shops by having something simple done, like an oil change or tires rotated. See how well the shop is run and build a relationship with the service manager/mechanic, so that when you have a serious problem you will feel more comfortable with them; you will be considered a regular customer too!
Hope this helps you.
Ms. Syd Barr - Dunkirk, MD
A reader wrote that you should go to a name you can trust like Sears. Sears is in the middle of a huge lawsuit concerning batteries and tires. DO NOT go to Sears. I could tell you my own horror stories about their auto department and an even worse one concerning appliance repair. I even faxed the CEO and did not get satisfaction.
Karen
In most cases, it comes down to the integrity of the people working at the particular shop and not necessarily the philosohy of the company as a whole. Some Sears are better than others which is why first hand advice from someone in your area is probably the most valuable. Large chains (like Sears) service can differ a great deal from store to store.

December 3, 2000
0

found this helpful
I would recommend you call your local Snap-On Tools dealer. This is what I did and he recommended two in my neighbourhood.
They see these fellas every week and they know who is reliable and who isn't.

December 9, 2000
0

found this helpful
How about contacting your local high school auto repair teacher for minor repairs, oil changes, etc. The work is done in class with the teacher supervising and the cost is VERY low.
By Dee K (Guest Post)
December 20, 2004
0

found this helpful
Call you local Kingdom Hall of Jehovah's Witnesses and ask whoever answers if they know of a JW who owns a shop or works on cars at their home. They're the most honest people I know.
Read More

Answers