April 3, 2018
0

found this helpful
That's a great tip. I have often gotten beer at Costco for that reason. It is usually under $1 a bottle if you buy a case. Heineken might be even cheaper than that.
Another place that some people may have access to is Grocery Outlet. My husband and I used to have a shop right on Main Street in our town and they would do a First Tuesday Art Walk. All the shops and galleries were open for people to walk in and many would have live music as well.
Each place serves something for their guests, usually wine and cheese. It's certainly a fun time for the neighborhood but the alcohol can really add up, especially for a small business. Most of the businesses would get bottles of wine at Grocery Outlet for these events. It was a lifesaver for us.
And, I would be remiss by not mentioning Trader Joe's. Their "Two Buck Chuck" wine is legendary, although I think it costs $3 now. They also have a nice selection of unusual wines and some great beer too.
April 3, 2018
1

found this helpful
Hi Jess! Yes, Costco would be a great for large parties. We have BevMo here nearby, but the prices are kind of high. I have not tried Grocery Outlet, but there is one sort of near by, I hear their selection in groceries is nicely priced too but I have never stopped by personally, I will have to try it!
First Tuesday Art Walk sounds like a lot of fun and all the shops participating in it. But yes, definitely for a small business that would be costly, glad Grocery Outlet was able to help keep alcohol costs down for you. :)
I am not a drinker, but occasionally will pick up the Two Buck Chuck wine at Trader Joe's for my fiancé, now $2.99, hehe! He also likes wine at Costco!:)
April 8, 2018
0

found this helpful
I am going to check on that for corona. My man is a lover of all things corona.
I would be able to make more crafts for him too love. He got a kick out of this one.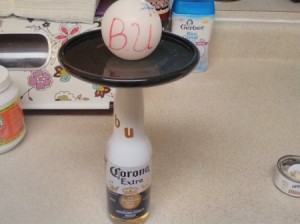 April 10, 2018
0

found this helpful
Yes check out some aisles in the back, they may have sales. :)