Free2B
Bronze Post Medal for All Time! 216 Posts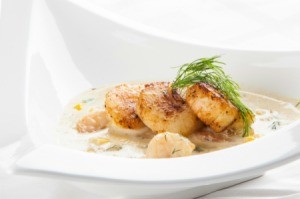 This recipe is so easy and fast to make, yet makes an elegant and delicious first course or meal. It is perfect for a quick, after work meal, real comfort food for your family. But it is also an impressive course for a dinner party. It is very good with linguine or rice, a leafy salad, your favorite veggie, and crusty bread or garlic bread.
Ingredients:
1 Tbsp. butter
1 shallot, minced finely
1 Tbsp. sherry
2 cups bay scallops, cleaned
2 cups half and half, or milk (half and half makes a richer bisque)
1 tsp. tarragon
2 Tbsp. butter
2 Tbsp. flour
salt, to taste
2 Tbsp. chopped, fresh parsley
Directions:
In a saucepan, melt the 2 tablespoons butter over medium heat. Stir the flour in until smooth, reduce heat to low, and stir for 1 or 2 minutes. Add the tarragon. Stir in the half and half, increase heat to medium again and, stirring constantly, cook until bubbly and thickened. Remove from heat and cover to keep warm.
In a skillet, melt the 1 tablespoon of butter and saute the shallots until tender. Do not brown. Add the scallops and saute for 1 minute. Add the sherry and stir until reduced slightly. Stir in the cream sauce, and simmer gently, stirring often, for 10 minutes. Pour into serving bowls and sprinkle with parsley.
May also be garnished with freshly grated Parmesan cheese.
Cooking Time:
20 - 30 Minutes
By Free2B from North Royalton, OH
Read More

Comments
Chop oysters; set aside. In medium saucepan, cook celery and onion in margarine until tender. Stir in flour, salt and white pepper. Cook over low heat 1 minute, stirring constantly...
Read More...

I would love a seafood bisque recipe if anyone is willing to share.
By Sean

Answers

August 21, 2010
0

found this helpful
Corn and Crab Bisque
3 T. butter
½ c. corn kernels
¼ c. chopped onion
¼ c. chopped celery
¼ c. chopped red pepper
1 clove garlic, minced
¼ c. flour
2 ½ c. vegetable stock, simmering
½ c. heavy cream
¼ c. jumbo lump crab meat
¼ c. shredded cheddar cheese
1. In a large saucepan over medium heat, melt butter. Add corn, onion, celery, pepper, and garlic and cook until onion is softened, about 3 minutes.
2. Using a wire whisk, add flour and stir constantly until mixture becomes a white roux, do not brown.
3. Gradually add hot stock, stirring constantly. Bring soup to a boil, reduce heat and simmer for 30 minutes. Let it stand for up to 2 hours.
4. Just before serving, add heavy cream. Heat until soup barely reaches a simmer, about 3 minutes.
5. Fold in crab meat and sprinkle cheese on top. Season with salt, pepper, and Tabasco sauce.

August 22, 2010
0

found this helpful
This is a cheater recipe but it's so good! I found it at Southern Living years ago. Are you looking for a quick but delicious seafood soup? Can't wait to make that stock and take all that extra time? Well, this is the soup for you. It's thick and creamy and comforting. I know many of you out there frown upon the use of condensed soups. But try this.. it tastes like a restaurant quality soup without all the fuss. Use whatever seafood you like. Just use at least 1 1/2 pounds of it. You can even use chopped cooked chicken if you don't like seafood. Want a curry flavor? Just add some curry powder while cooking the onions and celery. You can turn this into a creamy curried vegetable soup by omitting the seafood and using more onions and celery with the addition of carrots and whatever other vegetables are your favorites. Leave out the curry powder for a satisfying creamy vegetable soup. Just try it, you'll like it.
1/2 cup butter
1 stalk celery, minced
1 small onion, minced
1/4 teaspoon cayenne pepper
1/4 teaspoon dried thyme
1/4 teaspoon dried marjoram
3 tablespoons flour or baking mix (I use buttermilk baking mix)
3 1/2 cups milk (or more if you like a thinner soup. More milk can be added as needed after soup is completed.)
2 cans condensed cream of potato soup (undiluted)
1-1/2 lbs shrimp or scallops or clams or crab (whatever you want your soup to be I like to use shrimp, scallops and whole baby clams. You can add your favorite fish, too!
Chopped fresh parsley (to garnish)
Melt butter in 3-quart saucepan over low heat.
Saute' celery and onion until tender.
Add cayenne pepper, thyme, marjoram and flour or baking mix and stir until smooth.
Add milk and condensed soup and stir until piping hot.
Meanwhile clean and chop seafood as you like.
I usually halve the shrimp and then cut one half in half and leave the other half whole.
If using extra large scallops I usually quarter them.
When soup is piping hot add seafood and stir on medium heat until seafood is cooked through.
Serve in bowls topped with some fresh parsley along with some crusty bread or oyster crackers and a nice salad.

September 15, 2010
0

found this helpful
Thanks so much guys! I can't wait to try these!
Answer

this Question