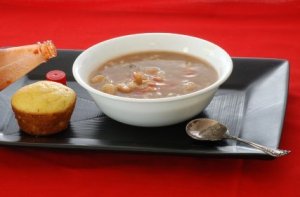 This is an easy and affordable gumbo, especially if you don't add shrimp. Using shrimp flavored bouillon makes it taste like it has seafood without the cost. My family often requests this for gatherings and I always serve it at Christmas, just as a change of pace from usual holiday foods. It freezes well.
Ingredients:
1/2 cup vegetable oil
1/2 cup all purpose flour
1 large onion, diced
1/2 cup chopped fresh parsley or 2 Tbsp. dried
1/2 cup chopped celery
1 cup chopped green or red bell pepper, or combo of both
6 cloves minced garlic
5 to 6 cups shrimp broth (can be made with shrimp bouillon cubes), or chicken broth, or combo of both
1 tsp. creole seasoning, or to taste (Tony Chachere's is good)
2 to 3 cups fresh or frozen chopped okra
1 to 2 pounds of meat, such as smoked sausage (Andouille is good), cooked diced chicken, shrimp, or combo of any
cooked white rice
gumbo file powder (found in spice section, Tony Chachere's is good)
Directions:
In a large heavy pot brown smoked sausage (if using) in oil. Remove with slotted spoon and set aside. Browning the sausage in the oil imparts a good flavor.
Add flour to oil and cook over medium heat about 10-15 minutes or until it turns brown. Be careful not to burn. It must come to this color very slowly and evenly. You will have to stir almost constantly, preferably with a whisk. This is called the roux.
Add onions, parsley, celery, bell peppers, and garlic and cook about 5-10 more minutes, stirring regularly. Add shrimp broth (and/ or chicken broth) and creole seasoning. Add chopped okra at this point, either fresh or a bag of frozen.
Cover pot and simmer 15 minutes, stirring occasionally. You may add more broth or some water if the gumbo seems too thick. Add your pre-cooked sausage and/or chicken at this point, as well as raw peeled shrimp (if using) and simmer until shrimp is pink. Serve with white rice and a sprinkling of Gumbo File powder over each serving to thicken.
Servings:
8-10
Time:
10 Minutes Preparation Time
40-50 Minutes Cooking Time
Source: My own gumbo recipe.
By Shawna from Paris, TN
Read More

Comments
This page contains a simple shrimp gumbo recipe. Gumbo is a stew that originated in southern Louisiana and is typically made with seafood and thickened with filé' powder.
It can be made with meat instead.