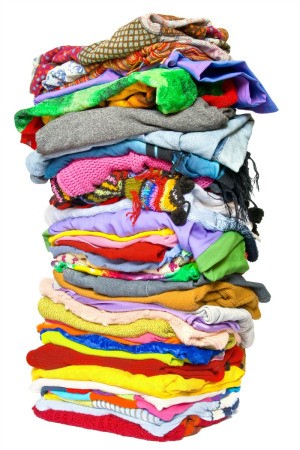 If you don't have time for a garage sale, are there any other ways to profit from usable clothing? This could include online sites for selling or any other good ideas.
Answers
July 20, 2001
0

found this helpful
I have bought several nice items of gently used clothing from EBay. It is a good way to find cheap clothes that have good wear left in them....and in
many sizes (even the very large) For example I won a set of 4 tops for $12.00 (including the shipping) and 2 nice slacks for $8 (again incl s/h).
This is a good way to thin out the closet and make a bit of money to buy MORE clothes...or books, or whatever - Margaret
July 24, 2001
0

found this helpful
For me personally, I did not find taking things to the consignment store profitable, however it was recycling. By the time, my items sold I got next to nothing because they continually mark things down. Not only that, you have to pay a fee to the shop to set up an account so you can have your clothes sold at the shop, however, this is once a year fee.
If you have deductions on your income taxes you probably would be better off donating them to charity and take a tax deduction.
Ms. Syd Barr
For women's and children's clothes take them to a Women's Shelter ..check
with a local church or the YWCA for where to find them. They are always in need of clothes (especially for the kids) - Britathrt
We have a Reader's Request answer that meshes with this topic nicely. For a list of consignment sites follow the link below.
If you have any friends that do a lot of yard sales, you might let them sell your things for a percentage of the items they sell. My girlfriend did that and had about 14 ladies she sold for. - Sue
August 23, 2005
0

found this helpful
See if anyone in your area is having a clothing swap. It will profit you clothes that you or your kids will wear.
Answer

this Question
I am new to this site. I would like some advice for selling toddler boys suits, purses with Elvis, Marilyn Monroe, I Love Lucy, and The Wizard Of Oz. I have a very old computer and I can't upload pictures. I don't trust craigslist. tried eBay, but people want to see pictures. Anyone interested or have advice on how to display them?
By Wanaya from Baltimore, MD
Answers
July 19, 2010
0

found this helpful
At the present time because of our poor economy, sales are really lousy. I've advertised gently used women's clothing on eBay and nothing has sold.
July 19, 2010
0

found this helpful
Check with consignment stores in your area. I have a friend who sells a lot of her clothes at consignment stores.
July 24, 2010
0

found this helpful
I never buy anything without looking at pics. Your best bet in my opinion is to either find an ebay agent who will take photos for you and then post them for you or buy a newer pc, you can find a tower only for about $200-$300 and do it yourself. Good luck. :)
August 1, 2010
0

found this helpful
Try www.Kijiji.com. (Free Ebay Classifieds) We Canadians love it! It's very addictive!
Answer

this Question
I have a large quantity of women's slightly used and new clothing which I would like to sell wholesale in lots to consignment buyers. I have tried eBay, but found it not to work for selling in lots. I have seen ads for this in the past, but do not recollect how to locate them. Thank you.
By roberta from Sandwich, MA
Answers
Answer

this Question
I have dozens of barely worn expensive professional suits, outfits, cocktail dresses, etc. Does anyone have any bright ideas on how to sell this clothing?
Read More...