Shopping During the Coronavirus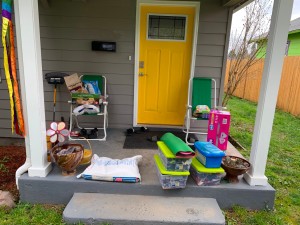 I went shopping for my sister's family today so she wouldn't have to leave her house. Here are some thoughts and tips about what to look out for when shopping during a stay at home order.
Please share your tips and experiences either below or by clicking Share above.

First, of course shopping is allowed during the stay at home order. Going out and getting what we need at the store is essential. However, do try to plan so you don't have to go out too often.

Senior Hours - A lot of stores now have hours for seniors or people who have health conditions. These are often the first hour after the store has opened so people can get first crack at limited supplies. If you qualify please take advantage of this time. If you don't, please obey the store and wait.

Costco - Costco has the best organization I've experienced. They have a line set up outside the store so they can limit the number of people in the store at any time. They had wipes for the carts. At checkout they wiped down the register between each guest, maintained space between people waiting to check out, and even taped the receipt on the cart so the checker at the door wouldn't have to handle it.

Grocery Store - My local store wasn't quite as well set up. They have wipes for the carts but nobody limiting how many are in the store. The aisles are narrower so it's harder to maintain separation. They have tape on the ground for the checkout lines so people know how far to space out.

Selection - Be prepared to be flexible. I haven't had too hard a time finding what I need but some areas of the store seem to run out of stock. Canned goods, pasta, and ramen seem in pretty short supply. The baking aisles have also been emptied out. It's hard to find flour, sugar, and oil. Stocking up on some of these basic items when you see them is prudent.

Paper Goods - There seems to be a big run on paper goods, toilet paper, paper towels, as well as baby wipes and diapers. I went to three stores this morning and didn't see any toilet paper. But I had no problem getting diapers and baby wipes. These items are often at the front of the store if they are available at all and are limited in how many you can buy.

Cleaning Supplies - Wipes and Lysol like sprays go really fast. They are restocked but are hard to find. It can be easier to find raw materials like rubbing alcohol to make your own wipes but even these move pretty fast.

Porch Drop - I left the groceries for my sister on her porch and said "hi" to the kids through the window before driving off so they could bring everything inside. It's hard to resist giving everyone a hug but I feel good that I was able to shop and allow them to stay home today.
Add your voice! Click below to comment. ThriftyFun is powered by your wisdom!
March 29, 2020
0

found this helpful
Great suggestions! Thank you.
March 30, 2020
1

found this helpful
I make sure to check mom-and-pop type shops on the weekdays. It's been the only type of shop I have found toilet paper in the last 2 weeks.
Add your voice! Click below to comment. ThriftyFun is powered by your wisdom!
Advertisement
Categories
Pages
More
Categories