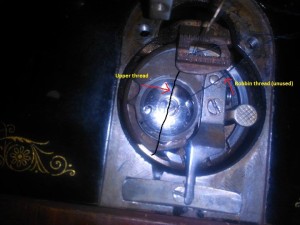 Around Thanksgiving I bought a gorgeous Singer 66 treadle machine that I found on Craigslist. I had decided that I wanted to take up sewing. Apart from some very simple hand-sewing repairs I am a complete novice/newbie. I needed a machine. Since I moved from the Netherlands to the USA in May I don't really have anyone that I can ask for an old/unused one, plus I really like the older machines that don't need electricity.
She was totally rusted and dirty, the threadle band was rotten and everything was jammed, but all the original parts are present as far as we can tell and I found the user manual online. My husband and I restored her back to working order, made every part move again, did some major de-rusting and I got myself all excited about finally being able to make my own (almost equally vintage) clothes.
When trying to start to sew, we ran into a problem. The bobbin thread is not picking up. After going through what seemed to be the entire internet to no avail, I let the machine sit for a couple of weeks in the hopes a miracle would happen. Then this weekend I decided to give my search on the web another try. I found a very useful tutorial on how to adjust the timing on my machine, which I did. This is a major step forward, because now the hook finally grabs the upper thread! Running the machine without the bobbin and bobbin case in works very smoothly now!
But when I put the bobbin case and the bobbin (metal Singer-brand type 66 bobbins, 99% sure those are the right type of bobbins for this threadle machine) and try to run the machine, the upper thread gets caught on the top side of the bobbin area. I added two pictures, one with the bobbin case but no bobbin and one with the bobbin case and a (wound and right way around inserted) bobbin, to try to illustrate what happens. Also I believe the bobbin thread is not being picked up by the upper thread when coming back up, but because the machine keeps jamming before that can even happen I am not really sure about that. I just stop turning the wheel and turn it backwards to unstick the machine before I break any needles or actually important (and probably expensive) parts.
I can't find any pictures/videos of this model machine that can show me how the thread is supposed to run, so I have no reference point whatsoever in determining what goes wrong, hence me asking my question here. I'm using brand new Singer-brand needles and have tried re-threading the machine multiple times.
My gratitude will be never-ending for the person who can tell me what I'm doing wrong and how I can fix it, to help me to finally get to sewing!
*Edit* I found a picture of what it's supposed to look like (as well as a bunch of other very useful manuals) on this website that was mentioned with somebody else's question: http://www.tfsr.org/publications/technical_information/sewing_machine_manual/
Judging from that picture I guess what the machine is doing is exactly what it should be doing, still (probably even more so) leaving me baffled by why it jams. The thread does not go all the way over the bobbin case most of the time, thus sliding back to where it came from and then getting stuck on (probably) the hook. Please help!