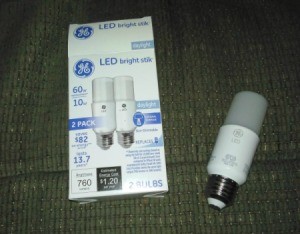 In the past 6 months, I have cut our electric bill by half. Several years ago I replaced all our light bulbs with CFL bulbs. Now, with the newer LED bulbs I have been replacing the CFL bulbs. 4 years ago, our average electric bill was around $300 per month for an almost 4000 square foot home. Now, I have it down to $100 or less.
The best priced bulbs I have found so far are the LED stick bulbs sold by GE. I get a 2 pack at Dollar General for $8. I usually buy these on the Saturdays that the store puts out the $5 off a $25 purchase coupon and sometimes combine it with a GE coupon.
To cut your bill, start by turning off lights when not used. Start replacing your bulbs that are used most often first. You can either replace your old bulbs as they burn out with the LED, or as you buy them. If you chose to replace as they burn out, you may need to rearrange your bulbs so that you are replacing those used the most first.
For lights that your forget to turn off often, put them on a timer. I have put a timer on our porch lights and the closet lights. The timers are simple. They screw into the socket, then the bulb screws into the timer.
Read your bulb packages. Some brands offer a money back guarantee if the bulb burns out before a certain time. I date my package and fold it flat, with the receipt stapled to it. On it, I write where I put that bulb.
As you are replacing your bulbs, remember that your electric billing normally runs 1 month behind when you look for results. As your bill starts to come down, you can use the money your saving on your bill to purchase more bulbs.
Once you get them all replaced, look on to something else you can do to save; such as newer water saving shower heads or toilets, or replace an old energy hog appliance.