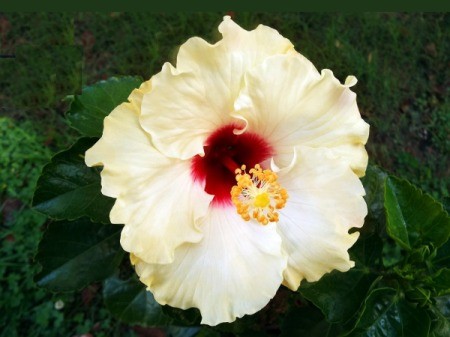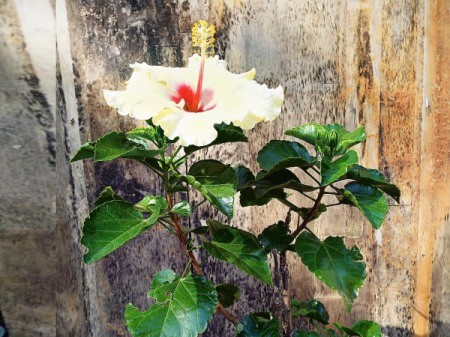 Photo Description
Last spring, I bought a hibiscus at a reduced price. It really looked bad. Its stems had the most unusual appearance. Well, for 2 dollars, why not?
I brought the little fella home and started a routine of TLC. Upon closer examination, I found the plant was more dead than alive. Half of those strange looking stems were mushy. I cut all those out. The poor thing looked pitiful.
Next, I realized I was not actually seeing the stems. They were completely obscured by a thick layer of some type of brown scale insect. That accounted for what I thought was strange looking stems. Malathion to the rescue.
All year long I babied that plant. At intervals, I sprayed it with more Malathion. I fed it Miracle Gro regularly. I gave it a sunny spot and never let it get dry. It wasn't in bloom when I bought it, and after a whole season it still had not bloomed and looked near death.
I brought it in for the winter, where it stayed in a state of 'giving up the ghost' the whole time. It lost all its leaves. I couldn't give it the strong sunlight it so desperately needed. Come spring, I took it back outside and started the TLC all over again.
Now, after another year of intensive care and with cold weather just around the corner, this little fella finally musters up the strength and will to show me its appreciation. It blooms! And a lovely bloom it is, unlike any I already have.
Too much time and care spent on a 2 dollar plant? Not a chance. Would I do it all over, again? My answer is in the picture.
Add your voice! Click below to comment. ThriftyFun is powered by your wisdom!