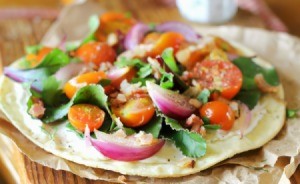 I just started Phase 1 of the South Beach Diet and I"m looking for a easy recipes... getting so tired of eggs and bacon! I have looked online already but there's not whole lot that interest me. Please help!
Kim
Answers
By Dee (Guest Post)
May 3, 2004
0

found this helpful
Go to your nearest Library and get the south beach deit cookbook, its new but you can request it when it comes in. we already have a copy in this little town.

May 4, 2004
0

found this helpful
About goes through the days and weeks of this diet in detail.
"The South Beach Diet is the newest craze. Developed by cardiologist Arthur Agatston, MD, it is based on re-educating the palate and body to appropriate carbohydrates and fats. In doing so, it lowers the bad cholesterol and in many cases reduces body fat.
In Phase One of the South Beach Diet, all starches and chief sources of carbohydrates are eliminated for two weeks. The dieter has free rein with lean meat, reduced fat cheese, unsaturated fats, and non-starchy vegetables. In Phase Two, small amounts of carbohydrates are reintroduced, with an emphasis on whole grains and continued elimination of processed carbohydrates such as white flour."
Read More: walking.about.com/.../southbeach.htm

May 4, 2004
0

found this helpful
This page has recipes for each phase:

May 4, 2004
0

found this helpful
Here's some more recipes by phase:
seniorhealth.about.com/.../sobeachrev_2.htm
And...
By KATIE MORSE (Guest Post)
May 25, 2004
0

found this helpful
STARTING THE DIET NEXT MONDAY
By (Guest Post)
October 10, 2005
0

found this helpful
I Need Recipes for South Beach Diet Phase 1
By Tina Jobe. (Guest Post)
July 4, 2006
0

found this helpful
I'm looking for the spinich quiche recipe. I have the book but have packed it down to move. I am staying with my parents and wanted to make it for them but forgot the exact recipe. Thanks
By Bmama (Guest Post)
November 6, 2006
0

found this helpful
You should try www.fatsecret.com, it's got plenty of recipes from members on all the south beach diet phases
Good luck!
By Tasneem (Guest Post)
September 24, 2008
0

found this helpful
Carb free Lasagna
Spray baking pan Pan well
Layers
1.crashed chickpea and grated Parmesan cheese
2.Big thin slices of egg plants must over every thing
3.Asparagus (1/2 cut) and mushroom sliced
4.few balls of Margarine ( made with index finder or small spoon)
5.Lay Spanish all over
6.Ricotta cheese cover all
7.ground lean turkey meet
8.spinach cover all
9.ricotta cheese cover all
10.ground lean turkey meet
11.Spinach cover all
12.Cheddar cheese spread nicely
13.Parmesan cheese grated
14.cover all with rosemary and oregano dried lives until is dark
15.optional use tomato sauce to cover it
450 degrees for 20 min or until cook
Occasionally use the water or juice on the pan to sprinkle on the top. This will make the top lawyer jui
Answer

this Question
I am on the South Beach diet. I am losing weight. I am getting tired of eating eggs and chicken. I don't even like eggs that much. I am looking for some breakfast, lunch, and dinner ideas that are easy and don't include eggs and fish. I like chicken, but not seafood. Thank you.
wacky camper
Answers

March 20, 2009
0

found this helpful
Hi,
When I was on South Beach Diet I came across this site: www.3fatchicks.com/forum/. It is a terrific site that has support forums as well as tons of recipes for all kinds of diets including South Beach.
It really encouraged me to stay on my diet. I still make many of the recipes and actually still eat eggs and turkey bacon most morningsl. Good luck!
Diets have been proven not to work, unless you remain on them for the rest of your life. But, once you get off whatever diet you're on and begin eating a variety of foods you like and have grown up on, you gain it all back. The best way to diet - and I've proved it - is to cut back on your portions, eat less sweets (or only occasionally) and fatty foods, and exercise on a consistent basis. That's the secret. You don't get tired of eating the same thing, you're getting the vitamins and nutrients your body needs and you can do it for the rest of your life. It does work; I know because that's how I live and love it. I'm able to maintain my weight, am more energetic and happy for it.

March 21, 2009
0

found this helpful
I suggest to eat right, and walk at least a mile every day. It's not what we eat, it's the amount.
Also have a small snack in between meals. It works for us, we are retirees, good luck.
Read More

Answers