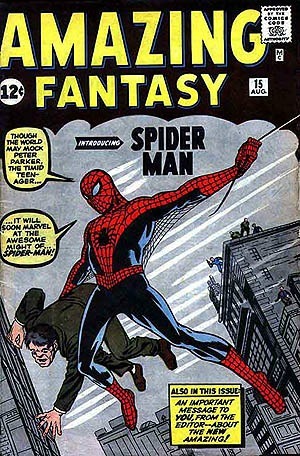 Well, if the webslinger is your favorite superhero, then this party is just for you. Here is are some ideas for making this a party that everyone will enjoy, including you. First, decorate where you are having the party with streamers and balloons in red and blue. Decorate your table with red or blue tablecloths. Raid your little one's toy box and get all the Spidermans you can find. Now use these to decorate your gift table.
Make your own Spiderman cake or decorate a plain bakery cake. Bake a 9" round cake. Frost with white frosting. Starting in the center of the cake, make a small circle with tube frosting. Now make a larger one around the first one. Now another one around that. Now starting in the center, make lines coming out from the center. Start by dividing the cake with lines into fourths. Now go from there. When you are done, your cake should look like a spider web. Add a small plastic Spiderman and your cake is done.
Here are some idea's for Spidey games you can play:
Spiderman Target Shoot
You will need: One piece of Poster board
One black marker
One can of silly string for each child at the party

You have a choice here, you can make a black silhouette of a bad guy or just draw a target.
How to play: Tell the children as you line them up and hand them their cans of silly string that you are giving them webs to shoot just like Spiderman. Line children up with their cans of silly string and let them take turns shooting at the target. Let them try 3 times. The one who hits the target the most times can win a ribbon that says "Best Shot". If you have 2 or more kids to hit the target, have a shoot off and keep moving them farther and farther back until you have a winner.
Spiderman Hot Potato
You will need: One red or blue soft ball like a tennis ball
How to play: Have the children sit in a circle and gently toss the ball to each other. Let them toss it until one of the adults says "stop". The child with the ball is out. Have the children tighten up the circle and go again until you are left with one child. Give a small prize for being the fastest.
At party stores, you can buy a Spiderman pinata and fill it with candy and small toys bought at the dollar store. Blindfold each child and let them take a whack at it. The child who finally breaks it open can win a ribbon, being the pinata champion and you can divide the candy and toys between the kids.
You could also do a bug hunt. At the dollar store, you should be able to find a wide variety of big bugs. Hide them around the yard or room like you would an Easter egg hunt. The kid who finds the most could get a small prize or ribbon for being a super sleuth.
Spiderman Birthday Craft
One lunch bag per child
Red and blue markers
Spiderman stickers
Let the kids decorate the bags. They can use these to take home their candy and toys from the pinata.
By Debra from Colorado Springs, CO