Yesterday two ladies came to my door thanking me for the garden. One told me her husband had died 4 weeks ago and would it be all right if she planted a rose bush in his memory in the garden. I told her yes, it is your garden, too.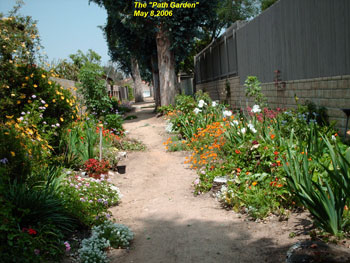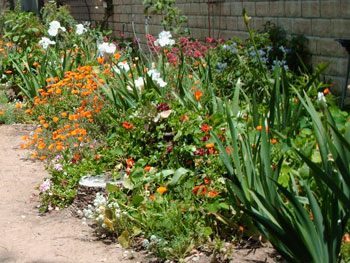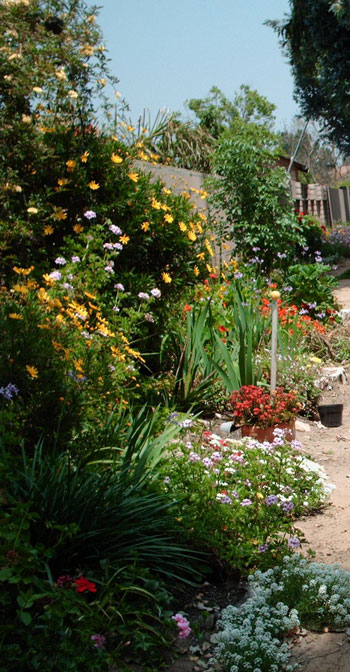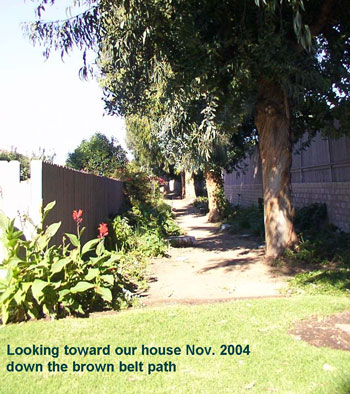 Before Planting in November 2004
By Great Granny Vi from Moorpark, Ca.
Editor's Note: When preparing these photos for publishing I recognized the pathway. GGVi had sent me pictures before she planted and said she planned to work on it. It certainly is beautiful! And what a wonderful thing to do for your neighborhood.
Answers:
Spring on the "Path Garden"
Absolutely BEAUTIFUL! It must be amazing to see in person because it is gorgeous in pictures! Thank you for sharing! You definitely have a gift. (05/27/2006)

By Grandma Margie
Spring on the "Path Garden"
Thank you for sharing such a great idea and beautiful path. (05/30/2006)

By meoowmom
Spring on the "Path Garden"
What a wonderful area to work in, and look at, and share. God bless you for your kindness. (05/30/2006)

By siris.
Spring on the "Path Garden"
What a beautiful garden.....GrannyVi is always sharing things with all of us.....Bless you, granny!! (05/30/2006)

By janlee1513
Spring on the "Path Garden"
WOW!! What an incredible gift to your community!!! What inspired you to do this and how did you get started? My yard looks like the "before" photos. I don't have much of a green thumb but want to be a "great gardener." Can you give me some beginner tips?
Thanks for sharing your beautiful garden with us!
Tricia (05/30/2006)

By Tricia
Spring on the "Path Garden"
What a beautiful garden. I just retired and my back yard had a pool and desert landscaping, blah. I am going to make my back yard a place of beauty. I'm sure it will take me a long time to have it half as beautiful as yours. Planting a rose in honor of your neighor was just a wonderful gesture.
I walk around my neighborhood and thank people that make my walk more enjoyable because of their hard work on their yards. Thanks again for your time. (05/31/2006)
By Linda from Las Vegas.Nv
Spring on the "Path Garden"
absolutely the most beautiful spot that I have seen in a long while....wish I lived where I could see it everyday....thanks for sharing it with us.... (06/01/2006)

By Debbie
Spring on the "Path Garden"
Thank you everyone for the kind words. I'll tell you it was in self defence that I started the garden. We have lived here for 32 years.About 28 -29 years ago, I was in the back yard when I heard kids playing, They were wanting to start a "Campfire" in the leaves from the Eucalyptus trees, So I got out my hose and started watering just in case. It was so unnerving that I had my hubby put in a gate so I could keep an eye on that pathway.Since I was able to have ready access, I saw all kinds of trash being thrown out there. Including graffiti, drug paraphernalia,condoms,new and used,dirty diapers,bottles,cans and other trash. Plus big dog poop.I have had to battle kids every year,they come and pull up the plants and flower tops and in general just distroy things. But I am a stubborn woman. I will continue replanting as long as I can. It is reward enough when people drop off plants,seeds and just a thank you as they stroll by.We have had only one small area of graffiti in many years and that happened when I was in the hospital. If you are out and about watering weeding, people will notice and say how wonderful, the job you do, funny they never think to say" How can I help? " Would be nice if they would offer to pay a few dollars on a months water bill or buy snail bait , Or better yet help in the garden once a month. Wishful thinking I guess. But I am happy to keep my little corner of the world a nicer place to be. And Tricia, rake up the dirt, throw seeds of your choice and water in. Sprinkle every day for 14 days and when you see the plants start to grow , water once a week. I'll be happy to send you some of the seeds I have collected to help you get started. That goes for any of the others that would like some. Just send me an email through thrifty fun. Happy gardening Hugs, GG Vi (06/23/2006)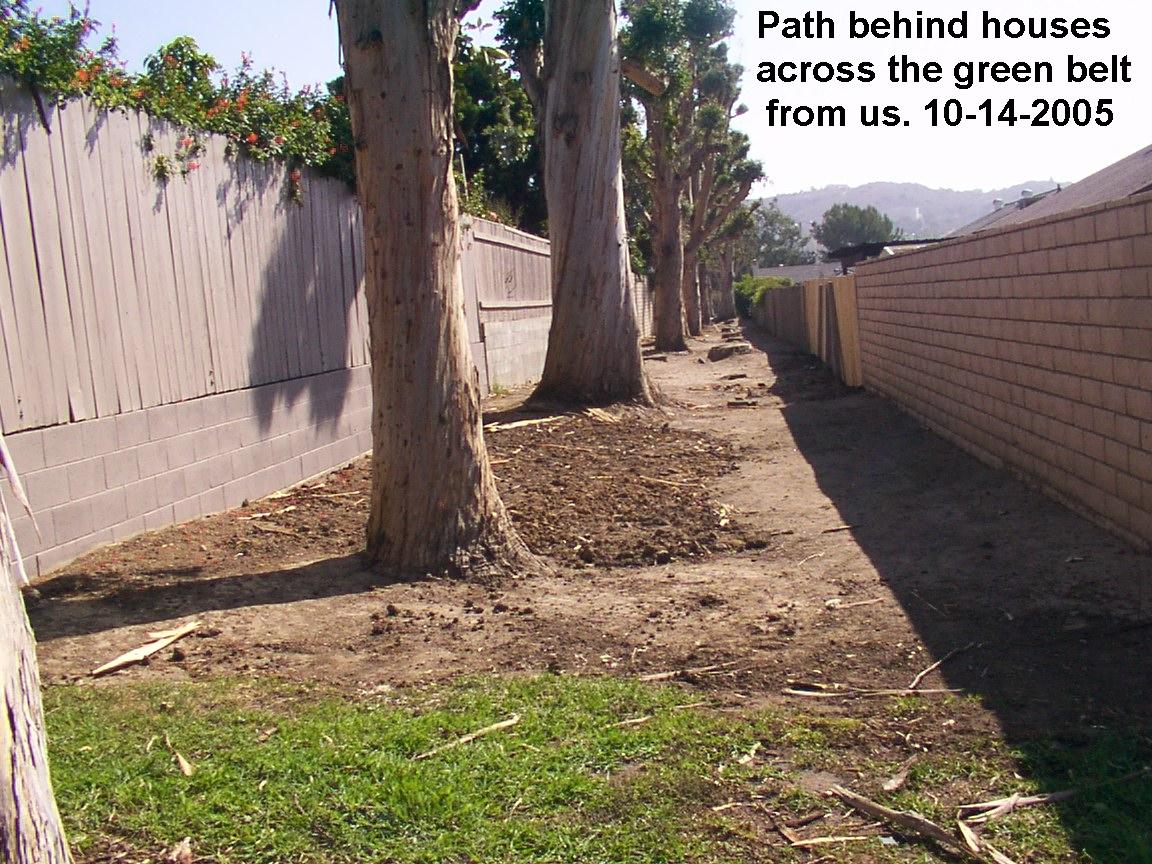 Spring on the "Path Garden"
This what the path looks like on the other side of the greenbelt form the garden path. GG Vi (06/23/2006)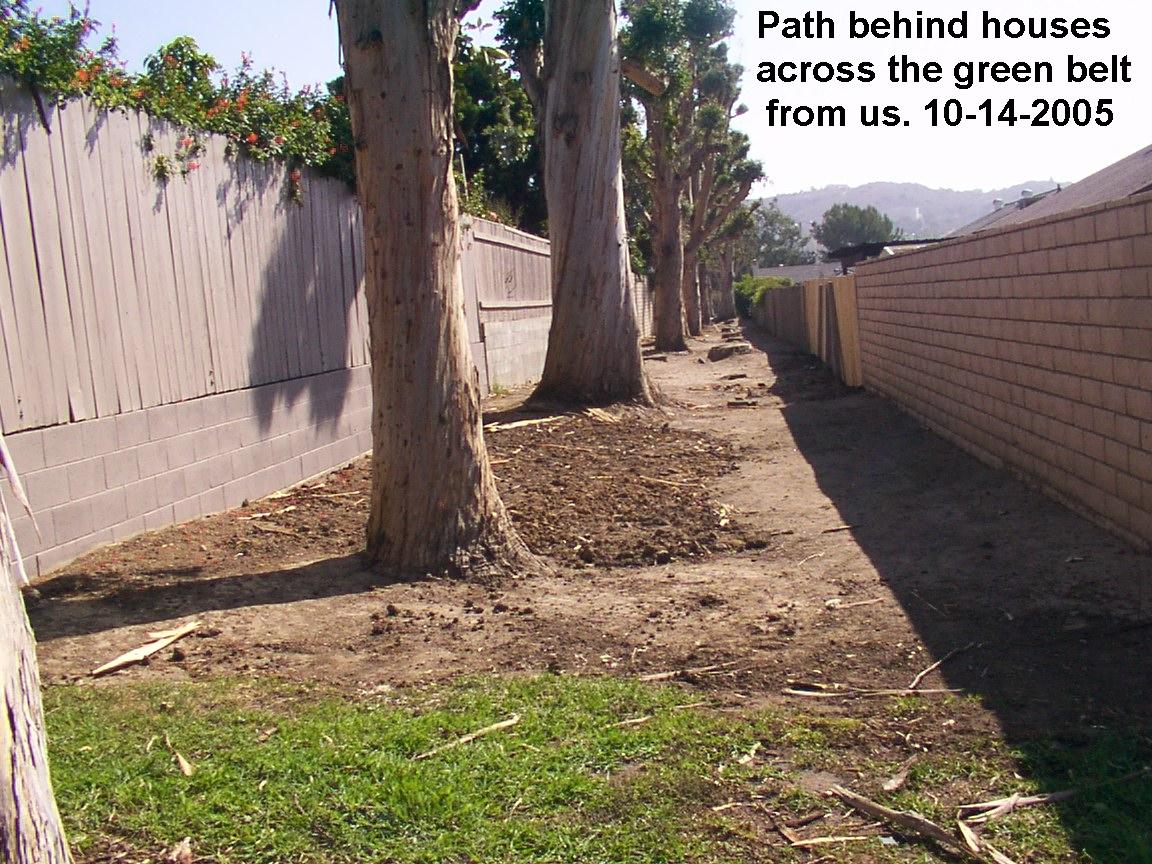 Spring on the "Path Garden"
This is great. I'm 26 and got a new house here in Dallas TX. I just woke up one morning and decided on gardening. Now I have to gardening bug. I love it. I even got my mother growing greens at her house. The average food travels 1200 miles before it gets to your door. Just something to think about. I have learned a lot about gardening from youtube. I just type in how to grow something and I watch a short video on it.
The net is your best source of info. I even though about planting fruit trees and not regular cover trees for my new home. I've got tons of ideas if anyone wants some advice. j30mack @ yahoo.com for questions. (11/11/2008)

By Jor
Spring on the "Path Garden"
Beautiful garden!What a great way to make use of the space and give people something wonderful to enjoy!
Thanks for sharing your inspiration and the pictures! (01/25/2009)

By Dorsi