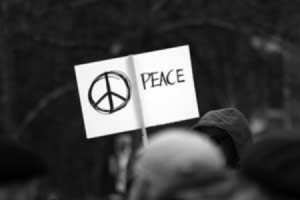 It's been said that the world is made up of 4 types of people: 1) Those that don't recognize the problems that exist in our society; 2) Those that recognize the problems, but don't care enough to act; 3) Those that recognize the problems and are too overwhelmed or frustrated to act; 4) Those that recognize society's problems and work actively towards solving them. Which type of person are you?
No one likes to think of themselves as oblivious to the world's problems or worse, too uncaring to try and solve them. When asked what type of person they are, most people see themselves as either number 3 or number 4-too overwhelmed or frustrated to act , or actively doing their part to make positive changes in the world. The truth is that most of us has been all of these "types" of people at point or another.
Sometimes people don't have enough information to recognize that a problem exists. At other times, certain problems don't seem like much of a priority. Most of us try to do our part, whether it's writing a letter to the editor of the local newspaper, voting in a state or national election, or shopping for organic products at our neighborhood grocery store. All of these actions are forms of activism and they all help create positive change.
Many of society's problems seem insurmountable. At one point or another you've probably found yourself throwing up your hands in disgust and asking, "I'm just one person. Things will never change, so why should I even bother?" To quote Mahatma Gandhi, " You may think your actions are meaningless and that they won't help, but that is no excuse, you must still act."
Here are five things you can do to stay passionate about activism:
1. Pick Your Battles
Don't get caught up trying to solve all of the world's problems. You can't. No body can. Focus your energy where you think you can do the most good. Work on the things you care most about and rest assured that there are people working on the things your not.
2. Remember That You're Not Alone
At times, activists can feel alone, out of place and misunderstood. Don't despair, you're not alone. Right now there are millions of people out there who have similar concerns as your own. Finding ways to connect with them either locally, or on the Internet can be a great source of inspiration and help you clarify your ideas. Place an ad, start a discussion group or join a message board.
3. Find Yourself A Mentor
Who are the people making things happen? Find them and find out what their approach is to being a catalyst for change. If you can't find a mentor in the present, look to the past. History is filled with people who worked tirelessly throughout their lives to find solutions to society's problems. Learn about how they did it and become re-inspired .
4. Keep Your Eye's On The Prize
Understand that change happens slowly and that you may not live to see the "equal rights", the "clean-up" or the "cure" that you're fighting for. That's okay. Neither did Martin Luther King, Jr., Rachel Carson or Christopher Reeves. They got us closer, though, and so will you.
5. Take A News Break
If it seems like everywhere you turn you're bombarded with another headline or news report about the world's problems, it's because you are. Take a news break. Don't worry, the world will keep turning without you. Stop watching, listening or reading the news for a month and you'll be amazed at how much better you feel about the world. When you "turn it on" again, be more diligent about giving your energy away to the sensationalism of it all. Positive change comes faster when people are pro-active rather than re-active.
And above all, know that you ARE making a positive difference in the world. As Margaret Mead once said, "Never doubt that a small group of thoughtful, committed citizens can change the world. Indeed, it is the only thing that ever has."
Looking to get inspired? Here are a few great links to get your started:
Comments
October 2, 2013
0

found this helpful
Thank You Ellen Brown for the words of wisdom.
stormy from Ca.