There is nothing more annoying than having an urgent emergency bird issue and not being ready or being able to find the stuff you need when you have a problem. Having birds is a lot like having a toddler, they hurt themselves, they get sick, and they eat things they shouldn't.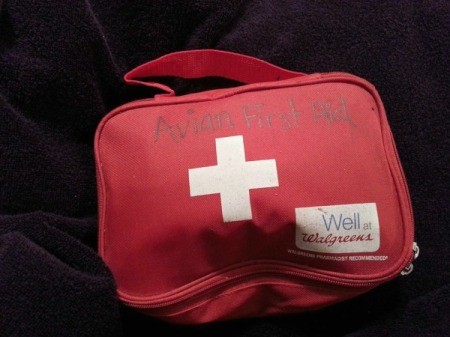 Over my many years of owning birds, I have kept an avian emergency kit around and it really helps when you are faced with a sick or injured bird. This is also a good idea for dog and cat owners.
I keep the essentials in their own bag so I can grab it and go. I have used it a few times with my chickens and an egg bound bird. I also really like to have it around when I have to leave and someone else is watching my birds.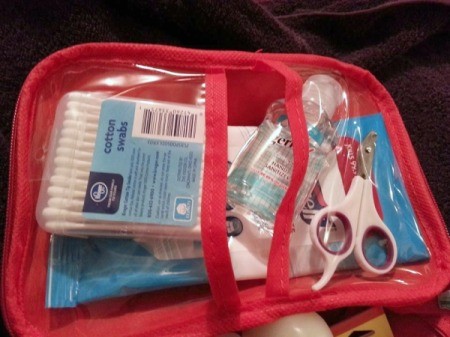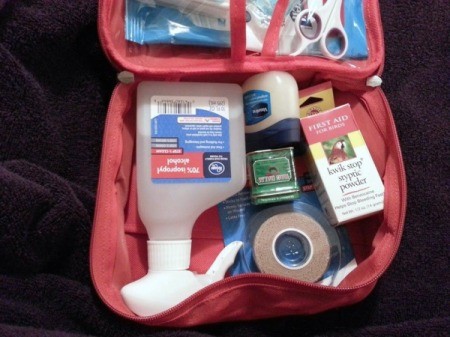 My kit includes:

The vet clinic number/business card inside the kit or written on kit. Avian vets are not that easy to find.

nail clippers (I always keep at least one pair in there so I can find them when I need them!)

Kwick stop styptic powder (To help stop bleeding.)

cotton swabs (For cleaning any wounds or applying medicine.)

Coban tape (It's elastic, sticks to itself, and won't stick to feathers.)

alcohol spray bottle (For sterilizing clippers and for helping clean feathers of any blood or feces.)

Bag Balm and Vaseline (For applying to combs and wattles in freezing temps or when abnormally dry or injured. Vaseline can sometimes help an egg bound hen when put on the vent. It can also protect wounds on feet.)

hand sanitizer and wipes (For helping to clean your hands when you can't get to a sink or are working on wounds.)

packages of gauze (For cleaning wounds.)

over-the-counter avian antibiotics (For chickens it can be found in most feed stores in liquid or powder forms. For small pet birds it's available in pills.)

Coccidiosis meds in powder or liquid form for chickens (common issue).

powdered electrolytes and vitamins for water

hand feeding syringes in different sizes (More for inside pet birds, but this year I used the big one on a sick chicken.)
I build a little more on the kit as I find more issues. I have never been sorry to have it yet!