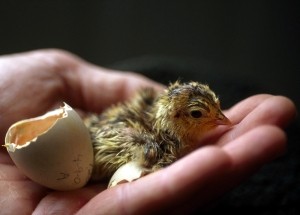 When I was a child, I had an elderly neighbor. Everyone called her 'Granny'. She kept chickens in a penned lot in back of her home. When she threw laying mash to her hens, she always included a smattering of crushed eggshells. Now, I know why. When eggs begin to form in a female bird, the bird seeks additional calcium in her diet. This extra calcium helps to strengthen her eggshells.
I wash, crush, and dry eggshells throughout the year. I try to keep at least a pint on hand. When spring arrives and I see new faces outside my window, and hear all those mating calls, I know it's time to add a few eggshells along with the bird seed to the feeders.
Keep a few of those eggshells for another reason. Adding a teaspoon or so to the bottom of the hole when planting tomatoes will do wonders at stopping blossom end rot. You will be supplying a slow release form of calcium which is better than the blossom end rot sprays you buy. The sprays are not cheap. The eggshells are free. Your choice. If you happen to have a bottle of blossom end rot spray around, check the label. You'll find the active ingredient is no more than a liquid form of calcium.