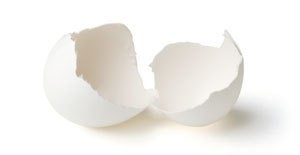 Uses for eggshells from the ThriftyFun community.
Pest Control
I use finely crushed eggshells around seedlings that I transplant into my garden each spring. The shells keep snails, slugs and cut worms away. Apparently, the shells are abrasive to these critters and they won't crawl over them to eat the young plants.
By lisa
Add Calcium To The Soil
I've heard that tomatoes love them, something about the added calcium in the soil. So when I planted mine this year, I crushed up a bunch of eggshells and mixed them in around the plants.
By Beth
Seed Starter
You can also use them to start seedlings in. Then when you transplant, just crack the shell and plant the whole thing. Of course this only works for small seedlings.
By dianne
Eggshell Seed-Starting Pots
To make eggshell seed-starting pots: Crack the tips off several eggshells, reserving the eggs for cooking. Fill shells with a light soil mixture and one or two seeds (nasturtiums were used in the book), and prick drainage holes in the bottom of each shell with a pin. Keep moist and warm. When seedlings have reached a suitable size, plant them directly in the ground, crushing the shell so the roots can emerge.
By Sherry
Deer Deterrent
If you have deer eating any of your garden plants, throw the eggshells out there because deer HATE eggs! Otherwise, they are good for your plants, anyway. Just crush and use in your potting soil or mulch.
By Margie
Compost And Mix With Birdseed
I crush them up very fine, and put them in my compost tumbler. On occasion, I dump them on the ground in the area where I feed the birds. The birds need grit in their gizzard to help digest food, so they eat the shells.
By Harlean
Make Sidewalk Chalk
Sidewalk chalk! Here's a great link to making the chalk, however after I washed the shells and let them dry, I ground them up in the blender rather than on a rock - much easier!
By Tina
Bedtime Tea
Bedtime tea, you wash them, then bake them until brown. Crush and boil as you would tea. Stain and make tea as you normally would. Enjoy a cup before you go to bed, as told me by my grandmother.
By susan
Snail Food
Egg shells make good food for pet snails. They need calcium in their diet to maintain their shells.
By Sylvia
Answers
By deb from sc (Guest Post)
August 21, 2007
0

found this helpful
Egg shells are solely calcium. Plants love them. Rinse, dry, and crush. Then sprinkle on the ground under any acid loving plant such as roses, azaleas, evergreens, magnolias, gardenias. Also add used coffee grounds this way. It will make for more blooms and heartier plants. works every time and is free. just be sure to rinse the shells so you don't attract bugs to the egg drippings, which would defeat the purpose.
By Sallie (Guest Post)
August 21, 2007
0

found this helpful
Crafters could remove the membrane from the inside the shell, put pieces inside down on a box covered with glue, push down till it is all crackled. May also dye it before use. Could use different colors to make a picture.
August 21, 2007
0

found this helpful
My Mom used clean crushed egg shells on top of the coffee in the filter while brewing....Takes the bitterness out of coffee.
By louel53 (Guest Post)
August 23, 2007
0

found this helpful
This is a cute craft for kids. Dye shells with your usual Easter egg dye. Make "chicks" out of 2 cotton balls glued together. Cut tiny feet out of construction paper, make a beak out of a small construction paper triangle folded in half, and two tiny circles for eyes. You could use small beads or craft eyes if you had them. Put the chicks in the dyed 1/2 shells. Glue onto a square of green construction paper to make it stand up. You could use white shells if you prefer, but the dyed shells are very pretty. I have done this craft with grade 2 &3 kids, and they liked it a lot. Louise, Nipawin
March 19, 2011
0

found this helpful
I am confused as one poster says save egg shells for snails as they eat them for the calcium and the other is saying scatter them to keep the snails away. I want to get rid of the snails so if I scatter egg shells will it attract them to eat the shells or keep them away?
Answer

this Question