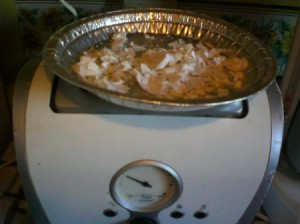 I want to share some things you can use egg shells for. First, I rinse my shells (after cracking them open for meals) and place them on an aluminum pan on top of my toaster.
Push down the toaster knob and let the heat come up and dry the shells in the pan.
Then I crush them up and use them mixed into my birdseed in my bird feeders (or in poultry feed, if you raise any poultry or even for pet birds). Birds NEED the calcium for their digestive processing in their gizzards and to produce their own eggs!
I also crush them up in potting soil for my flower pots or in my flower/garden beds for the natural calcium boost it gives them when it breaks down.
Or don't crush up the shells after you crack them open. Instead, add a few teaspoons of soil into each 1/2 egg shell and drop in a seed or two for some indoor plants/flowers. Great project for children to do!