Using CDs to Keep Birds Out of Your Garden
Solutions
Share on ThriftyFunThis guide contains the following solutions. Have something to add? Please share your solution!
Old CDs or DVDs glinting in the sun make the best bird scarers.
By Lucy L. from Oxford, England
Comments
April 10, 2014
0

found this helpful
Top Comment
Long time problem now under control. Playing a CD did the trick. It's a CD I found on the net to make "crows be gone". I now play it for fun during the day just to keep peace in the neighborhood. I like it.
To help keep birds and animals out of the garden, you can use the CD disks you are always getting in the mail from AOL, Earthlink, etc. You can use just one, but it is better to use two glued together with the shiny side out. After the glue has set up, drill a small hole in them and put a piece of fishing line through the hole and hang in the garden. When the sun shines on it, it acts like a prism and beautiful colors reflect from it when the wind blows it around. Even if it don't keep the birds and animals out, it is pretty to look at.
By George from Roanoke, VA
If you have CDs or DVDs laying around that you no longer use, that are scratched or broken, or received free from somewhere, those discs could actually be useful in your garden to scare of birds!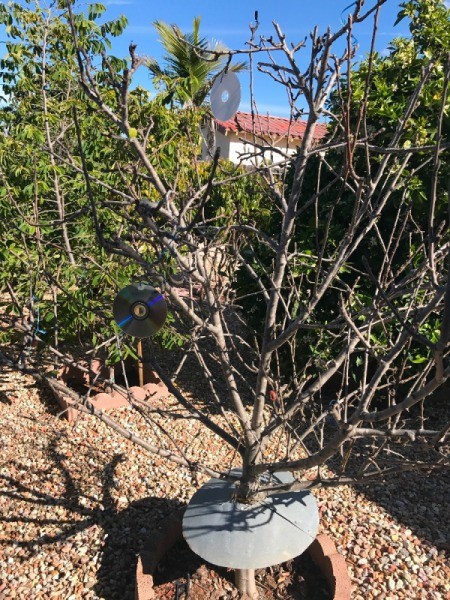 What you'll need?
- CD/DVD discs
- string
You can string as many CDs you want (the more the better it'll work) or just one here and there; it depends on you. It is said that the the movement of the CDs and reflection will scare off the birds.
This tip doubles as many things. Decoration as well as scarecrow. Take those DVD/CDs you were planning on tossing aside for whatever reason. I used a soldering iron, melted a hole in the edge of the DVD/CD. You can also use a small tipped hot glue gun without the glue in to do the same. If you don't have either, just knot the twin from the center hole.
Anyway, tie twin or thick cord on it here and attach to a shepherd hook or other element and place in the garden. The breeze will blow the disk and helps keep squirrels, animals out of your garden. My clothesline is nearby and I hang these on the ends as well. Different colored discs make for colorful additions in the garden.
A friend asked for an idea for her woodpecker at the lake which loved the cabin. I said to do this and hang shorter twine from the eves with a hook. The motion will keep the birds from pecking the cabin. She tried it and it worked!
By Joyce from Benson MN
Archives
ThriftyFun is one of the longest running frugal living communities on the Internet. These are archives of older discussions.
January 13, 2010
0

found this helpful
Use CDs to scare away the birds from your berries and crops. Take wire and make a U shaped piece, put it through the hole in the CD. On the other side of the cd, curl the ends of the wire so it works as a hanger and the wire won't go through the hole to make a hanger. Hang the CD from fishing line. The flashing will scare away the birds. It will hang at a 30 to 45 degree angle.
Answers:
CD Scare Tactics
CD's are good for the birds in the berries but they're also good for bunnies in the beans. I hang them with fishing line from extra wire stakes (upside down L shaped ones--They were for connecting several together to make a square stake for large plants). You can push the stakes down lower in the ground to rabbit eye level among your beans. Make sure the CD can move freely in the breeze. I'm sure other ideas for stakes will work as well. Bent wire clothes hangers maybe? I've tried this for the past two years with no nibble problems. (04/10/2007)

By KCC
February 12, 2007
0

found this helpful
I keep all those "junk" CD's you get free in the mail to put on fence posts, on the tomato stakes, or just long sticks to let shine and spin in the garden to keep away the birds. And maybe even some animals, too.
By Sheila McDonald
Answers:
Hang CD's From Tree Branches
You know I have doing that for a long time now and my kids thought I was nuts but I also had a tree that was dying so I trimmed it so it just had some limbs on it then I hang the CD's on that too. Yes it does work wonders here.

By Joyce
Christmas Decoration
I've heard of people using the pretty side/shiny side out and putting them on Christmas trees as decoration.

By badwater
Rubber Snakes?
I also was told that a rubber snake laid where birds were a problem would keep them away. Is that true? I have a friend who lives in an A frame house with a HUGE window in the living room. They have flown on the ledge and pecked her window up badly. She doesn't want to do anything drastic but they are really scratching it badly. Anyone got suggestions?
By MamawKC
Use Snakes, Not Owls
Snakes work pretty well for keeping birds away. DO NOT USE OWL! I used one, and second day, the birds were sitting on the owl's head. Carried it back and got my money back. Good luck with your garden.
Related Content