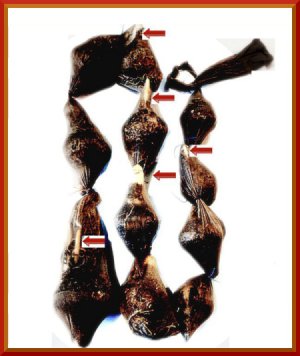 If you look closely at the picture, you will see I made a mistake. I was wrong in the placement of some of the bulbs. There's no real harm done at this point because I have time to correct my mistake.
Whether you store bulbs in a box of dry sand, Perlite, or other medium, or whether you hang them in a material that permits good passage of air, always be sure to position the bulbs upside down.
Keeping the tops of the bulbs facing downward signals the bulbs to stay asleep. By staying in a deeper state of dormancy, they are less likely to start sprouting before it's time to set them in the ground.
Sprouting too early can interrupt the bloom cycle, or when planted, the sprouts may rot and destroy the bulb.
These bulbs have about four more weeks in storage. I will re-position the upright bulbs and re-hang the lot. All should be well come mid April when I set them out. My Hymenocallis narcissiflora or H. festalis, which ever they are, should be filling the air with a delicious and unique scent come late summer.