EllenB
Gold Post Medal for All Time! 858 Posts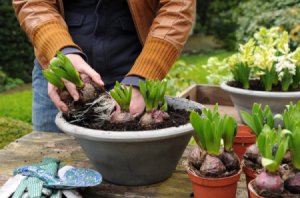 Did you know that those colorful, foil-wrapped potted tulips, daffodils, and hyacinths sold at supermarkets and home centers can be planted outdoors just like bedding plants? It's true. Although usually intended for decorative use indoors, these potted bulbs can easily be planted in garden beds or containers to create instant spring in your garden.
From Supermarket Aisle to Instant Garden Color
It happens to all of us. Life gets busy, and sometimes, despite our best intentions, the bulbs we buy in the fall don't make it into the ground before winter arrives. Unfortunately, by the time March or April rolls around, any spring flowering bulbs that didn't get planted are no longer viable and can just as well be tossed in the trash.
This is the time when supermarkets, nurseries, and garden retailers can really save the day. In early March, many begin selling spring flowers, including pots (sometimes even flats) of hardy spring bulbs. Although these are typically sold as indoor decor, once temperatures stay above freezing, these hardy spring bulbs are also candidates for planting outdoors. This includes tulips, hyacinths, daffodils, crocuses, dwarf iris, narcissi, anemone, and crocuses. All you need to do is acclimatize them for a few days, then slip them out of their plastic pots and plant them outdoors in garden beds, window boxes, or containers. Voila! You have instant spring color in your garden.
What about the Weather?
Spring and unpredictable weather go hand in hand, but hardy spring bulbs don't really mind. After all, Mother Nature has programed them to handle erratic springtime temperatures - even the occasional unexpected snowfall. To get them used to life outdoors, you'll need to adapt them to colder temperatures before planting. This can be done by letting them spend few nights in a cold, but protected porch, garage, or other cold area to help toughen them up before moving them outdoors. Once they settle in outside, most young bulb plants and buds will be able to ride out a few light frosts. Plants with fully opened flowers and leaf tips are more susceptible to cold damage. Their petals and leaves may suffer from "freezer burn".
Making "Instant Spring" Last
Whether you're using them indoors or in garden beds, you'll want to get as much "instant spring" out of your bulbs as possible. A pot of young tulips or hyacinths displayed indoors at normal room temperatures, for example, will continue to grow and bloom over a period of two weeks or more. However, if your intention is to transfer them to garden beds or window boxes, you might want to look for bulbs with the buds still tight and green instead of plants that are flowering.
Not only will they last longer in the cool outdoor temperatures, but you'll get the benefit of watching them grow them come into bloom.
Tips for Planting Instant Spring
If the weather is still iffy in your area, look for potted bulbs with tight green buds, not those already in full bloom. They will be less susceptible to damage from a sudden cold snap.
Once home, water the pots well and place them in a cold, protected area (above freezing) for a few nights so they can acclimate to colder temperatures before you plant them outside.
When planting, don't try to separate the bulbs. Remove the plastic pots and transfer the bulbs - soil and all - into the garden.
If using bulbs as container plants outdoors, a larger sized container will better insulate the bulbs from unexpected late spring freezes.
Don't overlook fragrance. Many spring bloomers like hyacinths, dwarf irises, and certain types of tulips and daffodils are fragrant as well as colorful.
Whether enjoyed in the garden or in the kitchen, colorful potted tulips, daffodils, hyacinth and other bulbs are a welcome source of instant spring this time of year. For more information on growing and caring for all types of bulbs, visit The International Flower Bulb Center at:
Comments

April 8, 2012

1

found this helpful

Thank you for this, I wasn't sure if I could do this with the several potted bulbs I have. Now that I know, my front garden will be a lot prettier by the middle of next week.

susan




Silver Feedback Medal for All Time! 472 Feedbacks

March 18, 2013

0

found this helpful

My grandmother had over an acre of flower beds. Right after the Depression, several of my aunts worked at Five-and-Dime stores. After each holiday, the stores--who were going to discard all the unsold, dead flowers--gave them to my aunts to take home.

The following year, the bulbs bloomed; throughout the years, they multiplied. Several times, I've picked pots of spent holiday flowers that others have left out for the trash. They make me smile each Spring when they start blooming.

April 26, 2016

0

found this helpful

This article is quite wrong on a few things, the biggest being "Unfortunately, by the time March or April rolls around, any spring flowering bulbs that didn't get planted are no longer viable and can just as well be tossed in the trash." as a grower who sells those pots in the spring I can tell you that all you have to do with bulbs you do not get to plant is store them in a cold dark area (37F to 40F) with wood shaving, NOT in plastic, but in brown paper bags. They can stay stored like this for up to 50 weeks. It is what we do with pour bulbs that we do not sell in the fall.