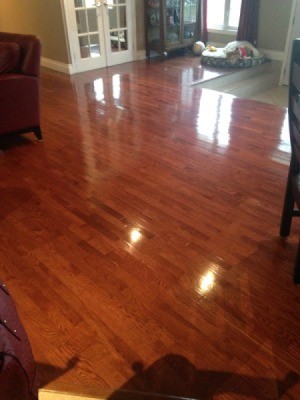 I moved into a house where I have real hardwood floors. My old house had laminate and I've tried everything a steam mop, a steam vacuum mop, the regular mop by hand method, and I always had streaky laminate floors. With the new house and hardwood, which is about 11 years old, I was determined to find a way to have streak free floors. I have tried many combinations of natural solutions different mops and always end up non-streak free but today I realize there's only one solution to the problem no matter what cleaning products you want to use.
The first step is to vacuum or sweep. Then fill a bucket 1/4 full, with;
warm water
1 cup white vinegar
3 drops "drops" of dish soap, drop the soap into still water to avoid suds
Next, using a mop start with a small section. Here's the trick, immediately throw an absorbent clean towel down and using the mop wipe the floor dry. Continue in sections. Remember you may have to get extra towels as they get too damp. The problem that we're having with the streaks is the water is drying in place and leaving a watermark, so if you wipe the excess water immediately ya got a beautiful shine.