My husband bought new shoes and they are too tight. Is there anyway to stretch the width?

Mary from Newark, CA
Answers:
Stretching Shoes
If you know of any shoe repair places they sell things to stretch your shoes. And once you buy it you will always have it when needed. (10/08/2008)
By Darlene
Stretching Shoes
I've never done this, but I've read about it. Put a heavy plastic bag in the shoes and tie them tight. Pour water in the bag and shut it tight with no air pockets. Put the whole thing in the freezer and as the water freezes it stretches the shoe. I would love for someone to do this and let me know how it works.
And buy shoes at the end of the day when your feet are the biggest.

Susan in Omaha (10/08/2008)

By Susan
Stretching Shoes
I have the same problem; wide at the front and narrow at the heel. I also have bunions which makes it extra difficult to find shoes that fit. I finally bought a shoe stretcher. It is a wooden thing in the shape of a foot and you can adjust the width by turning a metal screw. I think you can buy them at Walmart if I am not mistaken. Can't remember where I bought mine. Anyhow it is invaluable for me. (10/09/2008)
By Elaine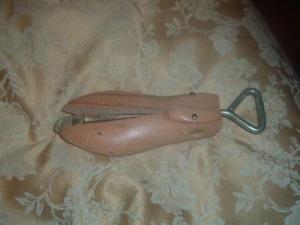 Stretching Shoes
I have done the freezer bag with water and freezing shoe thing and it does work, if the shoes are leather. If they are from a man-made material, they will not stretch. (10/09/2008)

By Lois