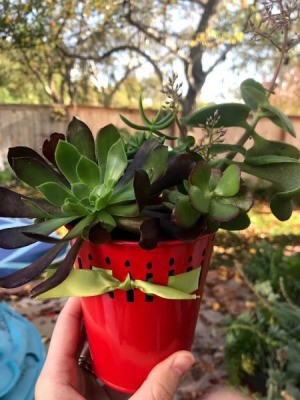 If you have a succulent garden, you know they are easy to grow (can even be grown from cuttings), require minimal attention and beautiful. Succulents make great gifts, adds a nice little green touch for in the home or office, desk.
I love making succulent planters as gifts because they're low cost, thoughtful and handmade. Mini planters like these go for $5 to $8, but you can make them for less than $1*.
However the breakdown cost will vary* depending on what you already have on hand. The only cost item I had to purchase were the planters.
I was able to score these small mason jars from Michaels for .57 cents, originally $2 (https://www.michaels.com/heritage-small-mason-jar-by-ashland/10485234.html#q=Heritage+mason+jars&start=1) and the other tin baskets are what I had saved from Target clearance sales for about .10 cents to .30 cents each.
- The soil and perlite I had at home already.
- The succulents are cuttings from my garden.
- I used ribbon I already had at home.