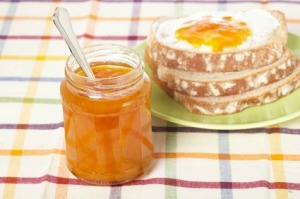 How do I make freezer jam with sugar free Jello?

Wanda from Illinois

Answers
I found this recipe when I was looking for the same thing. Hope it helps. Lori
EASY STRAWBERRY JAM
1 1/2 c. water
3/4 c. sugar
2 tbsp. cornstarch
1 pkg. sugar free strawberry Jello
1 pkg. frozen strawberries
Mix ingredients; bring to a boil. Add one package Jello. Stir until gelatin is dissolved. Add one package of thawed strawberries. Mix well. Pour into jars; refrigerate.
Here is another one I found.
STRAWBERRY(or other kind) DIABETIC JAM
1 c. berries
3/4 c. sugar-free strawberry pop
1 pkg. strawberry sugar-free Jello
3 packets Equal
Mash the berries, add soda pop and cook 1 minute. Remove from heat and stir in Jello until dissolved. Stir in sweetener and pour in jars. Seal and store in refrigerator.
Makes 1 1/4 cups. You may use other fruits such as raspberries, peaches or cherries.
Now I liked this one too !! I think you can use any type of fruit and just trade jellos. I think it would make great Christmas gifts too !
SUGARLESS STRAWBERRY JAM
2 c. mashed strawberries with juice
1 1/2 c. diet 7-Up
1 tsp. lemon juice
2 pkgs. sugar free strawberry Jello
In saucepan combine mashed strawberries, diet 7-Up and lemon juice.
Bring to full rolling boil, stirring constantly for 1 minute. Remove from heat, add Jello stirring constantly until Jello is fully dissolved. Ladle into clean hot jars, filling to 1/4 inch of top. Seal tightly and cool. Store in refrigerator.

September 13, 2008
0

found this helpful
QUESTION: these look great! However, with the recipe requesting "1 box of SF jello". Is that the small or large box? Thank you!
By Wanda (Guest Post)
September 15, 2008
0

found this helpful
So many good answers to my question about freezer jam w/ SF jello. I did try combo of strawberries and bananas w/ strawberry-banana SF jello---worked great--Wanda
Answer

this Question

Has anyone, except me, tried to make jam with Splenda and no pectin? I made some this year with figs and blueberries and used the dehydrator to thicken them then put them in jars and water bathed for 10 minutes. Because it was my first try I put them in the refrigerator and everybody loves them including me.
I have searched the web and so far nobody uses a dehydrator, but the no sugar pectins leave a taste I don't care for. Thanks in advance.
By gbk from south georgia , ga
Answer

this Question