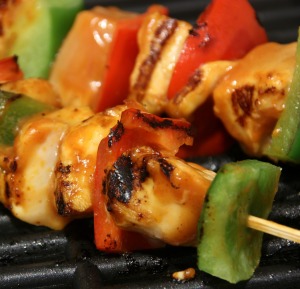 Several times throughout the summer, we have a "Pancake Palooza". It is a breakfast picnic where we make pancakes to order. We set up a food station with one or two electric griddles, the fixings for the pancakes, a crock pot with pre-browned, cooked sausages, a cooler with either little bottles or a pitcher of juice, and coffee. I mix batter (from an add water mix) in a pitcher and keep the pitcher on ice. When someone wants pancakes, I pour enough batter for about 3 pancakes into a smaller bowl, add the fixings, then cook them on the griddle. I put them on a plate, and they are free to add butter/syrup, sausage, etc.
I buy the pancake mix in big bags at Sam's, the sausages in a big box at a local restaurant supply store. For the pancake fixings, I generally have chocolate chips, white chips, nuts, and seasonal fruit. I use washable plastic plates,"real" flatware, washable juice cups, and Styrofoam cups that I already had for the coffee. I will buy inexpensive (garage sale) mugs when the Styrofoam cups run out.
We have picnic tables set up and whatever lawn chairs we have. People know they're welcome to eat and run or stick around to visit. I try to have a few games out; the kids bring guitars and games, too. We have found it to be a very fun, inexpensive way to entertain! We get great attendance, as we don't conflict with other parties and activities. After the first couple of "Paloozas", we know just what we have to do and our friends know what to expect and look forward to them. It is a really nice way to mix grown-ups with the teens and young adults.
By Jill from Allentown, PA
Read More

Comments