EllenB
Gold Post Medal for All Time! 858 Posts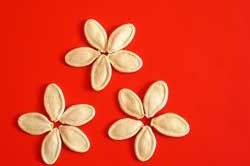 Seed Exchanges have planted themselves on the Internet, allowing gardeners to find, offer, and swap seeds. If you're in the pre-spring gardening mode - thinking about, planning out, or dreaming of this season's horticultural challenges - it's the perfect time to start hunting around for the seeds you desire, offering up those you have too many of, or doing both.
There are three basic types of seed swap groups - free membership, paid membership, and seed saving organizations. There are close to 100 seed exchanges listed on Yahoo alone that were started by users. Some specialize in herbs, exotic seeds, or rain forest plants, while others are more generalized.
If you think you have some seeds to trade, it's important to make sure they're viable. A simple way to do this is to place a few seeds on one-half of a damp paper towel and then fold the other half over the seeds. Put the seed-laced towel in a plastic bag and place it in the proper environment to germinate. If you see sprouts within two weeks, you've got some seeds worth exchanging.
Always be upfront about how old your seeds are. When properly stored, seeds will retain their viability for many years. If the seed is older than a few years be sure you inform exchange members of that fact. When you have older seed one way to facilitate a swap is to include a large amount of seed, which will offset the potential low germination rate.
When exchanging there are a few things to keep in mind. Most trades include at least two dozen seeds. When offering seeds you'll need to include some vital facts, including the plant name, whether the plant is a perennial, biennial or annual, and when the seed was collected.
Additionally, any growing information such as type of soil, climate conditions necessary, and amount of sun or shade needed is very useful. Recycling your old seed packets, making photocopies of the information, or keeping the vital facts on your computer are all good methods for insuring the proper transfer of life sustaining information.
Membership sites are great places to find gardening enthusiasts and exchange seeds as well as information. There are also formal organizations whose primary focus is on exchanging and savings seed. Some promote organic gardening, heirloom seed preservation, and seed swap meetings. Your local arboretum, community garden, or horticultural society is a good place to start looking for local seed swap opportunities.
Now is a great time to start surfing the net for seeds. Before you know it, planting season will be here!
Tips for Mailing Seeds: Use plastic bags or small boxes to put your seeds in. Make sure their secured well with tape. There are several great sites in the Internet where you can download colorful templates of boxes and packets just for saving and trading seeds (search 'seed templates'). Once you've got your seeds in the initial packaging, put it in a padded envelope for safe shipping. Make sure to include seed information, growing instructions and your contact information, along with a request to be notified when your seeds arrived safely at their destination.