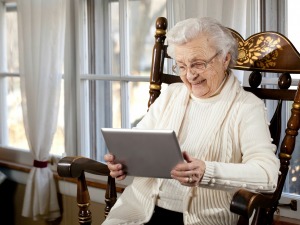 My grandpa wants to learn to use the computer and Internet. Because of my job I do not get enough time to teach him. He doesn't want to go out and take classes. Any other easy ways?
Gloria
Answers
By pam m. (Guest Post)
December 22, 2008
1

found this helpful
Best Answer
Sorry I can't give you the exact links - but I know that there are senior sites that have computer lessons - Maybe Third Age? or Eons? And you could also go out (or go on the net) & get him a copy of Internet for Dummies - which is an easy introduction.
He should have a lot of fun with it - so encourage him!
December 22, 2008
0

found this helpful
Best Answer
Maybe call your local high school. Kids are so smart, and many
teens don't have grandparents. I would bet it would spark interest in a caring teen. Office people at the school may be willing to help you out. Good luck!
Answer

this Question
How can we get laptops and training for seniors, especially those that are disabled or homebound? Is there a grant available for the elderly in Baltimore City?
By Bessie
Answers
October 13, 2017
1

found this helpful
Its a wonderful thing that you are doing. Unfortuately folks are wary of giving due to the many scams out there. I suggest obtaining a volunteer to pick up seniors and take them to a library or community center to use computers. If you establish a regular day and time it will be more effective. Many homebound seniors are homebound because no one takes them out. Good luck to you !
October 18, 2017
1

found this helpful
The National Counseling On Aging has a free resource site:
www.BenefitsCheckUp.org
This site is a confidential and free and easy resource service to help people 55 years and older locate and apply for benefits. There are numerous financial assistance programs, both public and private, that can help struggling Seniors trying to make ends meet. The site has information on more than 2000 programs. Many are available to anyone in need who qualify, while others are available only to older adults and can help them retain their independence.
Benefit Types:
Food Assistance, Health Care, Prescription Drugs, Utility Assistance, Supplemental Security Income (SSI), low income housing, tax relief, respite care, free legal assistance and many other benefit programs are available.
To use the site, you enter basic information about the person in need-date of birth, zip code, and check boxes for what the person needs assistance with. The site generates a report instantly, listing links to the programs and services that the person may qualify for.
Some assistance programs can be applied for online while other have downloadable form to be printed and mailed, faxed or emailed in, and some require you to contact the program directly.
Benefits Enrollment Center
It is also possible to get help in person at a Benefits Enrollment Center. There are currently 36 centers in 24 states and 12 more will be added in 2016. Visit the online site for locations:
October 20, 2017
1

found this helpful
Microsoft gives away a lot of free laptops. Contact the Company and see what they say
December 10, 2018
0

found this helpful
I have looked everywhere on Microsoft's website to find a phone # or email to contact them. Apparently, they really don't want yo talk to anyone. I am a 68 year old female with a disability and I really need a computer, printer, etc. to be able to function. recently lost my job and dont have resources to fully retire . if anyone has had success with this, please let me know. thank you.
December 30, 2018
0

found this helpful
I would love to have a computer that I could use St home.
May 12, 2019
0

found this helpful
My husband (50) & I (64) are on SOCIAL SECURITY DISABILITY INSURANCE. We are in need of 2 laptops. We have been on SSDI for over 10 years. Mine is for BIPOLAR DISORDER, & his is for BIPOLAR DISORDER & OCD.
We have also not been able to work for 11 years. We now feel we could do part-time jobs at home to help pay are bill, which are mostly doctor bills & other costs owed.
I have a job at VIPkid, teaching ESL to Asians 3-4 hours a day, & all I need is a computer, my husband has found a telemarketing job & needs a laptop to be able to work.
We live n $1689 for both of us per month & after monthly bills, we usually only have about $7 to spend.
I hope you can provide 2 laptops for us. We will be trying with "ALL" of our effort to do these jobs.
PAMELA BROWN GAINES
RONALD DAVID GAINES
23 LINCOLN LN
STAUNTON, VA 24401
PHONE 540-466-5161
May 12, 2019
0

found this helpful
laptop
upgrade to microsoft office
cd/dvd/player
large screen/with large fonts to be able to see
update Final Draft for work
Answer

this Question