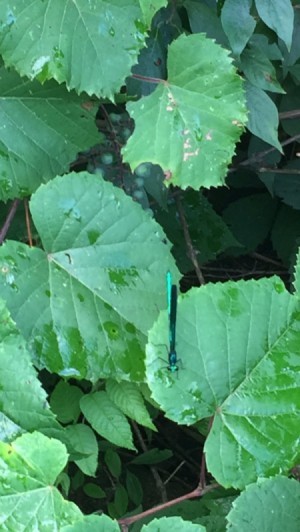 I was admiring the beauty of nature at Cat Island Park in Elizabethton, TN. It is a little park that has a walking trail and swings, slides and lots of picnic benches nestled among old trees. The rain began to fall, and I waited in my car. The day was hot and muggy and humid. After the rain finished, I walked down the trail and started looking for any photo opportunities, and I was glad to find this beautiful dragonfly.
This beautiful creature was taking a bath on a raindrop, and I took both video and a photo on my phone. He dipped his leg into the bright raindrop and washed his little face in the raindrop.

This action could not have taken more than two minutes of my time, and I will always remember to take photos after a rain, to capture nature enjoying the gift of a summer rainstorm.
As a pleasant surprise, while I was looking for animals and wildlife, I found this charming painted rock. An unknown individual had left this stone on the levee that keeps the Doe River from flooding the park. it had an encouraging message on it with pretty coloring. I had to include what I believe to be English Ivy coming over the levee. English Ivy is my favorite kind of ivy.

I hope everyone is enjoying their summer!